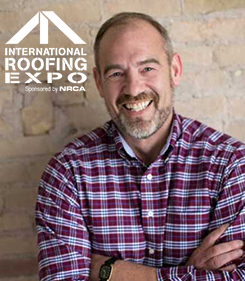 The International Roofing Expo (IRE) announced its full schedule of events and speaker lineup for March 7-9, 2023 at the Kay Bailey Hutchison Convention Center in Dallas.
The International Roofing expo will showcase products from more than 500 exhibitors from around the globe, aimed to address the growing industry, now estimated at $56.7 billion.
IRE is set to deliver more than 60 educational sessions taught by industry experts and has a full conference program featuring 45 sessions. Industry professionals can gain insight into material sourcing, business practices and other information beneficial for the roofing and exterior industries.
"The International Roofing Expo is an integral meeting place for industry professionals to come together to address the challenges and trends that the roofing and exteriors industries are currently facing," says Rich Russo, show director, International Roofing Expo.
Speaker and author Chris Czarnik will deliver the keynote address on March 7 at 9:30 a.m. outlining real-world strategies around employee recruitment, engagement and retention, providing insight on overcoming current industry challenges stemming from the national labor shortage. 
The Associated Builders and Contractors reports a scarcity of over 650,000 construction professionals. Czarnik, a former military officer with over 20 years of experience as a human resource manager, career services manager and job search advisor, will advise on innovative approaches to job searching.
For more information and to register, visit www.theroofingexpo.com. Visit the Asphalt Institute at Booth 8415.