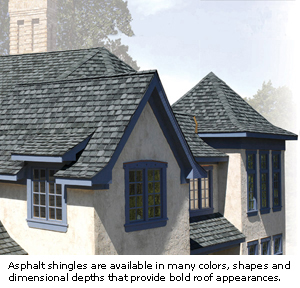 by Joe Hobson
From a modest beginning with the marketing of roll roofing in 1893, the asphalt roofing industry has grown steadily through the years to the point where today it is overwhelmingly accepted as the country's leading supplier of roofing products. Asphalt roofing is estimated to be approximately a $12 billion industry.
Most of the asphalt in the United States is used in paving (87 percent) or roofing (11 percent). Asphalt roofing products and systems include shingles and roll roofing, ply felt, built-up roofing (BUR) systems, saturated felt used as underlayments for shingles and modified systems.
Product and roofing system innovations have followed. The first self-sealing asphalt shingle was introduced in 1953. Then, in the 1970s, multi-layer or laminated shingles were introduced.
The development of fiberglass-based asphalt shingles, another 1970s innovation, has resulted in asphalt shingle products with an even higher fire rating. And, through the years up to the present time, asphalt shingles are the most widely used roof covering for new home construction and remodeling — used on four out of five U.S. homes.
Roofing Grades
The basic grades of roofing asphalt are:
Saturant-grade asphalt, a nonoxidized or oxidized asphalt used to manufacture saturated felt piles used in the construction of BUR systems, organic felt shingles, and other roofing materials, such as roll roofing;

Coating-grade asphalt, an oxidized asphalt used to manufacture roofing materials for a variety of roofing systems, such as asphalt shingles, polymer-modified bitumen roofing, reinforcing and underlayment felts, and roll roofing product; and

Mopping-grade asphalt, an oxidized asphalt that is melted and used in the construction of BUR and modified bitumen systems.
Asphalt Shingles
Popular in the early years of the 20th century, fulfilling a need for an economical fire-resistant roof covering. Over the years, asphalt shingles have increasingly become recognized as an economical, fire-safe and aesthetic product with a combination of beauty, durability, longevity and value.
The "standard" asphalt shingle is the square butt strip shingle, elongated in shape and available with one or three tabs. This product is made of a base mat or organic material (cellulose fibers) or inorganic material (glass fibers). The organic mat is saturated and coated with asphalt and then surfaced with ceramic-coated opaque mineral granules.
The saturating process is not necessary for fiberglass-based asphalt shingles, which require only a coating asphalt. The coating asphalt provides weatherproofing qualities. The mineral granules protect the shingles from the sun's ultraviolet rays and give the shingles color and added protection against fire.
Roll Roofing
As the name implies, roll roofing is manufactured, packaged and shipped in rolls. It comes in a wide variety of weights and measures. Roll roofing products are produced with either a smooth surface or a mineral surface, the latter containing mineral granules that are embedded in the topside of the sheet. In addition to its use as a roof covering, roll roofing is important as a flashing material.
Underlayments
These products consist of a felt or mat (fiberglass or polyester) that may be impregnated or coated with asphalt, stabilized asphalt coating, and polymer modified asphalt, non-asphaltic polymeric coating or a combination of these materials. They are used primarily as underlayment for asphalt shingles, roll roofing and other types of roofing materials. Some of these types of products are also useful as sheathing paper.
Built-Up Roofing Systems
Built-up roofing was introduced in the late 1800s and remains the most popular roofing system for commercial and industrial buildings for new and retrofit markets.
Built-up roofing membranes are composed of layers of bitumen or cold-applied adhesive that serve as the weather-proofing component of the membranes. Reinforcement piles, such as organic felt, glass-fiber ply sheet and polyester plysheet, are installed in each layer of bitumen or cold-applied adhesive. Bituminous membranes are installed in multiple-ply configurations with bitumen or cold-applied adhesive between layers, or plies of membranes, of reinforcement to construct a "built-up" membrane.
The Manufacturing Process
The manufacture of asphalt roofing products is a continuous process performed on a roofing machine that begins at one end with a roll of core material and concludes at the other end with the finished product. This sequence of operations builds the product up in stages, adding materials along the way and monitoring their operations. The graphic below illustrates the sequence of events.
The Advantages of Asphalt Products
The dominance of asphalt roofing products through the years has not evolved as a matter of chance. It is based on proven product performance that goes beyond the basic roofing requirements of providing a covering that shields the building's inhabitants from the weather. The characteristics have earned asphalt roofing its leading position include the following:
Weather Resistance. Asphalt roofing products are proven to resist sunlight, heat, cold, water and ice.
Fire Resistance. Asphalt roofing products are manufactured to comply with ASTM International and/or Underwriters Laboratories (UL) standards for fire resistance.
Wind Resistance. Asphalt roofing products comply with the wind-resistant standards of Underwriters Laboratories.
Economy. Efficient, high-volume production plus relatively low cost of application result in economies that are difficult for competing roofing materials to match. Moderate installed costs combined with long service life gives asphalt roofing products a very low annual or life-cycle cost.
Ease of Application. Asphalt roofing is considered to be the easiest of all standard roofing materials to apply.
Adaptability. Because of their flexibility and strength, asphalt roofing products can be applied on a wide variety of roof styles.
Aesthetics. Asphalt roofing is available in many appealing colors, shapes and dimensional depths that provide bold roof appearances. The wide range of asphalt roofing products introduced in recent years offer much greater flexibility in choosing the appearance of a building's exterior than is available with most other types of roofing material.
Style Suitability. Asphalt roofing is completely "at home" with most architectural styles, whether contemporary, modern or traditional.
Low Maintenance. Properly chosen and applied, asphalt roofing products require little or no upkeep and are easily repaired, if damaged.
Joe Hobson is the Director of Communications and Member Services for the Asphalt Roofing Manufacturers Association (ARMA).
ARMA is the North American trade association representing the manufacturers and suppliers of bituminous-based residential and commercial fiberglass and organic asphalt shingle roofing products, roll roofing, built-up roofing systems and modified bitumen roofing systems. For additional information, contact ARMA or visit www.asphaltroofing.org.