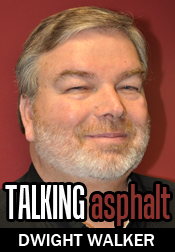 When I began this blog, I identified several points that I feel affect asphalt pavement performance. Since then, several of my monthly entries have dealt with those topics.
Same approach this time − one of the factors I listed was joint construction. I feel very strongly that the quality of joints has a direct and immediate impact on pavement longevity. The performance of an asphalt pavement is controlled all too often by the quality of the longitudinal joint. Poorly constructed joints fail before the remainder of the pavement shows much distress.
And, apparently, others agree with me. Mark Buncher, the Asphalt Institute's Director of Engineering, has written a timely article describing an effort he lead for the Federal Highway Administration (FHWA) and the Asphalt Institute (AI) to review past research studies on joints and to examine the state-of-the-practice for specifying and constructing joints. The work did not perform new research but instead evaluated existing information and attempted to find a consensus on best practices. Buncher's article is published in the Spring 2012 issue of "Asphalt" magazine and is also available online.
The article has a lot of good information and you should read it carefully. Here are some of the significant findings and best-practices that caught my attention:
A survey of the FHWA division offices found that "…about 50 percent reported dissatisfaction with the performance of their longitudinal joints."
Minimizing mix segregation is important.
Optimize the paver operation. Be mindful of having the screed vibrator working.
Ensure enough mix is delivered to the end-gates. Supply a uniform head of material across the full paver width, etc.
Determine the best approach for compacting the unsupported edge of the mat.
There are two recognized approaches. The right one for your mat may depend on the mix stability, crew experience, etc.
Measure the density near the joint during compaction.
Don't lute or hand-work the joint.
Apply tack or a proprietary joint adhesive/bonding agent to the edge of the joint.
Choose a mix that is compactable (while still being rut-resistant.) Mixes with smaller top-size stone are typically less permeable and make better joints. Similarly, finer mixes make better joints. Apply sufficient lift thickness to allow for particle re-orientation.
Improving longitudinal joints is "…probably the single most important thing we can do…" to improve flexible pavement performance.
The list above gives a few examples. Read the article and the report, when available, for more detailed information. The FHWA/AI joint project has been completed and the final report titled, "Best Practices for Constructing and Specifying Longitudinal Joints," will be available soon through AI or FHWA. Additionally, a workshop has been developed for personnel involved in specifying and constructing asphalt pavement. These workshops will be available free to state DOTs. Watch AI's website for more details.
There are not a lot of valid excuses for poor joint performance. Building good joints is largely based on following good practices that do not require much effort or additional expense. We simply have to do a better job!