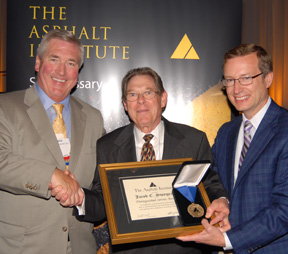 Jacob C. (Jake) Swygert received the Asphalt Institute (AI) Distinguished Service Award April 14 in Charleston, S.C. at the AI Spring meeting.
A graduate of the University of South Carolina, Swygert worked for Koch Materials early in his career and later became President of Gulf Coast Asphalt Company, President of Hunt Asphalt Products and Vice President of Hunt Refining Company. He retired in 2009.
Swygert served on the AI board of directors 14 years. He was the first Marketing Committee chairman in 1997. He served as a Vice President and also on the Public Policy/Relationship, Technical Advisory, Executive and Personnel Advisory committees.
Swygert was presented the award by AI Chairman Bill Kirk (left) and AI President Pete Grass (right).