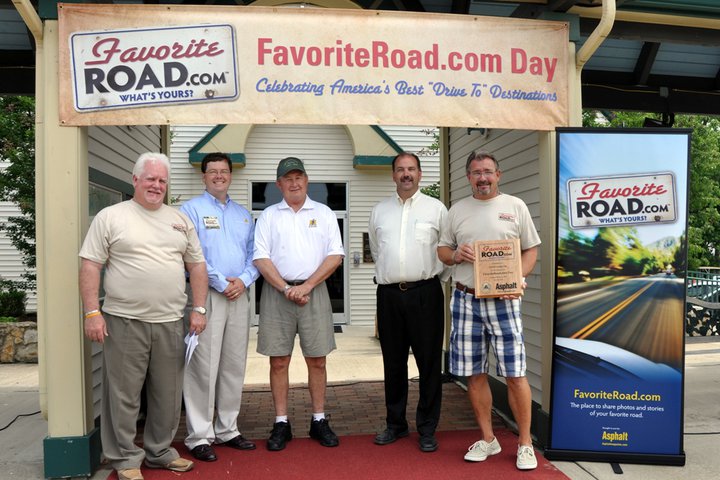 In conjunction with National Travel and Tourism Week, which has been observed annually each May since 1984, FavoriteRoad.com Day was celebrated in Grand Rivers, Kentucky on May 14.
As the town's mayor, Tom Moodie, said, "Southern Living readers recently called Grand Rivers one of the best small towns in the South. I call her home. This charming village is blessed with a rich history, two big lakes, an abundance of outdoor recreational opportunities, and an immeasurable amount of heart."
One of the distinctive features of Grand Rivers is the fact that you cannot fly directly into the area. It is directly accessible only by automobile and boat, which made it perfect to celebrate FavoriteRoad.com Day.
"This charming destination offers both a driving adventure and a unique visitor experience once you arrive," says Brian Clark, publisher of Asphalt magazine. "That's the perfect criteria for a story on our site."
The day's events were a success, with approximately 85 people in attendance. Local business owners, community leaders, media and residents formed the crowd. Several elected officials were on hand to recognize the day and to discuss the importance of tourism and road maintenance to the community.
There was food, folk music and classic cars provided by area sponsors and partners. Food sponsors included Jim Smith Contracting Co., Vulcan Materials Company and Kinder Morgan Energy Partners. Later, FavoriteRoad.com representatives were treated to a tranquil boat cruise around the scenic lakes.
FavoriteRoad.com, sponsored by Asphalt magazine, is an online community designed for you to share photos and stories of your favorite roads.
The site is being updated continually with new photos and stories, including featured roads and related road insights. Outstanding submissions may also be eligible for prizes and contest giveaways.
Visit www.favoriteroad.com today to share your favorite road experience and read stories from fellow travelers.