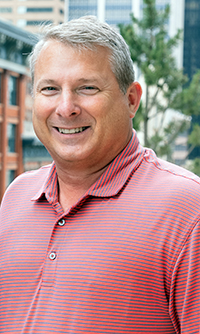 By Bill Blaise

Patrick Nation is the 2022 Asphalt Institute (AI) Chair. He is the Senior Vice President of Ergon Asphalt and Emulsions, based in Jackson, Mississippi.
Please describe your career path to become Senior Vice President at Ergon?
My career path could be described as interesting and very lucky. I started my career out of college at Deloitte and Touche, where I worked for several years before meeting Baxter Burns and Bill Lampton through a family friend. A couple of weeks later, I was working for Ergon.
I started training in the lab and field and ultimately begin as the Area Sales Manager in Birmingham, Alabama. After several years, I accepted the role of Area Sales Manager for Ergon's refinery in Vicksburg, Mississippi, but I was working out of the company headquarters in Flowood, Mississippi, where I had the extra duty of helping the Ergon Asphalt Division implement SAP (systems, applications and products). That helped me see all parts of Ergon and also get a great feel for the asphalt division's business. After several years of that, I was asked to help lead the team in the Southeast Region, along with ErgonArmor (Ergon's technical coatings division). Ultimately, I landed the role of Senior Vice President. I have been so privileged to work with great people both within the industry and at Ergon.
What interested you the most about the asphalt business?
Transitioning from the CPA world to training in the lab, I was amazed at what asphalt really was. I think of asphalt as a carrier of a multitude of technologies that paves and coats many different materials that make the world work as it does today. It was intriguing to me how different technologies could be brought into the asphalt business. Of course, once you meet the people involved in the industry, you can't help but be interested. There are great people who pull you in, making you want to know more.
What do you see as the greatest challenges facing the asphalt industry today?
We all face the challenge of infrastructure funding. This year's infrastructure bill will help us for the next several years, but it is not perfect, and we need to keep fighting for long-term funding for the industry. Secondly, we have the challenge of producing quality asphalt products in the ever-changing world of petroleum. With sustainability and life cycle cost analysis becoming more a part of the agency decision process, we need to be challenging ourselves to rise to the occasion of quality.
What does sustainability mean to your organization and what actions do you think the industry should take in achieving these goals?
For Ergon, sustainability means "doing right." We strive to always do the right thing through our company and for the people we represent, including our employees, their families, our customers and the world we operate in. By reducing our carbon footprint, Ergon has reasonable plans to make sure we are doing our part to help.
For the asphalt industry, we have a good story to tell about sustainability — we just need to tell it. This is a space where the industry can play an important role and help with challenges faced around the world. Asphalt Institute members supply most of the binder in this industry and lead the effort in recycling. The asphalt paving industry is one of the top recycling industries in the world. Also, the asphalt industry has carbon-reducing technologies available today that can reduce the production of hot mix temperatures and instantly capture a significant reduction in carbon. We also have pavement maintenance technologies that get produced and applied at lower temperatures that can and will be included in agency LCA (life cycle assessment) plans, and this will help agencies reduce their carbon footprint. We are in a good space going forward and need to embrace the changes that are coming.
What do you see as the greatest opportunities for the asphalt industry to prosper in the future?
I think we can lead the infrastructure narrative on sustainability. I think we have the people and assets to help be a solution to ESG (environment, social and governance) movement. The AIF Star symposium is an opportunity to start developing strategy, research plans and execution timelines to take our position as an industry resource to another level.
What roles have you held at the Asphalt Institute? Any favorites and why?
So, I have a funny story to tell. I have a good mentor at Ergon and one of his passions is helping the asphalt industry and the Asphalt Institute. In my early days at AI, I was leaving the hotel during a member meeting to have a strategic field trip offsite to look at the asphalt cart paths at the golf course (aka, I had a tee time) when he happened to walk by. After a question and a snarky answer back to him (very misguided), I received a text a little later informing me that this just might be the last field trip to see asphalt cart paths in my future at the Asphalt Institute.
The next year I believe I was on every committee — even the ones that meet at the same times. It might still be a record!
I learned so much from being involved in these AI committees over the years. I challenge everyone to please get involved, stay involved and help the asphalt industry remain the great industry it is today.
What do you believe are the greatest benefits of being a member of the Asphalt Institute?
There are many things that I could list that benefit a member company of the Asphalt Institute. The one that I think about the most is the collective knowledge the member companies bring to the industry. Whether it be HSE (Health, Safety and Environment), safety issues or challenges not foreseen, the membership has people to research, organize and take the challenge head-on. A group of thoughts is always better than one.
How do you manage your full-time position and your volunteer roles with the Asphalt Institute?
The staff at the Asphalt Institute make taking on a role relatively easy. They do an excellent job of being organized and getting the information needed to handle the volunteer role. It is probably different for every person, but for me, I have to make sure I am scheduling time for both the day job and my duties at AI. This allows me to devote blocks of time that would otherwise be taken up by something else.
How did your participation in the EPIC leadership class help you develop both internally with Ergon and externally as a leader at the Asphalt Institute?
The first and best EPIC class was wonderful. For me personally, I learned things about the industry in the tours we made during the year. Also, spending time with the group was invaluable in the knowledge and relationships gained that have benefited me in both Ergon and AI tasks.
How do you feel about working with Jeff Norus as your vice-chair?
We are looking for a year of excitement for the Asphalt Institute. Seriously, Jeff has a great gift with people. He cares about the asphalt industry and his company (Exxon) is a huge supporter not only through sponsorship but also through their employees' time. He leads an awesome team that is dedicated to the industry and he will bring energy and passion to the vice-chair position.
What do you like best about the asphalt business? 
That's easy — it is the people within the industry. They are a joy to be around and make doing business something you look forward to, not something that you have to do.
How would you describe the asphalt industry's role in society today and in the future? 
The asphalt industry plays an important role in society. We are the main resource going into the transportation system that moves people and goods around the world. Without a great network, both people and businesses suffer tremendously. This will not change moving forward. The world might look a little different, but transportation networks will be an important part of whatever the world looks like in the future.
How do the Asphalt Institute and its members fit into this role? 
Our members ARE the industry. AI is made up of companies and people who care. So, with that, it is our responsibility to lead. The AIF Star symposium is a great example of this leadership. The meeting will drive the future of the Asphalt Institute Foundation's priorities and research moving forward.
I know that family is very important to you, can you tell me a little bit more about your family and how it has influenced your professional life?
I am glad you mentioned this. Yes, family is important to me. So, let's start with my wife, Tara. She has been the rock of our family. She has not only supported me and my work, but she is also leading us in raising our (almost-raised) kids. She juggles a lot of things very well. We have two boys, Cale (21) and Connor (19), who are both in college, playing sports. We also have a girl, Callie (16), who is a sophomore in high school and is involved in several student government and social service clubs. Both Tara and I enjoy watching them do what they like to do and spend most of the time we have away from work traveling to do so.
One of my proudest moments in the asphalt business was being there when Ergon announced their $1,000,000 contribution to AI Foundation. Would you share with me what that contribution meant to you?
Me too. I was so excited when the Ergon Foundation and the Lampton family agreed to the contribution. There was no hesitation, and it was said in that meeting that this was giving back to something that has played a part in the life of Ergon. I feel the same way. Ergon has been a part of the Asphalt Institute for many years, and in those years, we always felt like we were getting back more than we put into it. This contribution to the foundation helps solidify the next generation of Asphalt Institute.
What do you like to do for fun?
To go along with watching the family do their thing, I like to play tennis and golf. I also like to fish and duck hunt a little, when time allows. Anything related to sports and outdoor activities has played a part in my past, and I enjoy getting to do them for fun today.
Blaise is in the Commercial Sales organization with ExxonMobil.