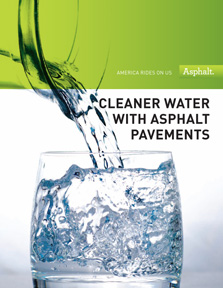 Asphalt pavements can be excellent tools in improving water quality according to a new white paper from the Asphalt Pavement Alliance.
"The APA's newest publication scientifically documents the beneficial effects asphalt pavements can have on water quality," according to Dr. Howard Marks of the National Asphalt Pavement Association. Dr. Marks is the report's principal author and serves as co-chair of the team that produced the document.
"The green benefits of 100 percent recyclable asphalt pavement might be surprising to some. For improved stormwater management, clean drinking water and reduced roadside pollution, asphalt pavements are clean and environmentally beneficial," he continued. The 5-page publication, "Cleaner Water With Asphalt Pavements," is available as a free PDF download.
Dr. Marks says he often encounters questions as to whether asphalt pavement or reclaimed asphalt pavement (RAP) leach petroleum into the earth. "The answer to these questions is no. Asphalt pavement's inert quality has been observed in a number of scientific studies that are documented in the white paper. Additionally, smooth asphalt pavements save fuel – potentially billions of gallons every year. And asphalt pavement has a small carbon footprint, especially compared to other paving materials," he concluded.
"Cleaner Water With Asphalt Pavements" will be of particular interest to stormwater and right of way managers in urban/suburban areas, city managers, national infrastructure program officials and municipal water quality engineers.
The Asphalt Pavement Alliance is a coalition of the National Asphalt Pavement Association, the Asphalt Institute, and the State Asphalt Pavement Associations. The Alliance's mission is to further the use and quality of asphalt pavements. The Alliance will accomplish this through research, technology transfer, engineering, education and innovation.