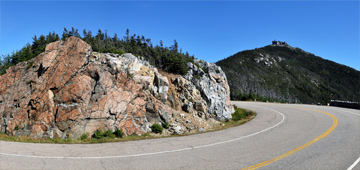 There's an asphalt roadway in scenic upstate New York that has truly stood the test of time.
The Whiteface Mountain Veterans Memorial Highway ascends to the summit of the fifth highest mountain in the Adirondacks at an elevation of 4,867 feet. The roadway was originally dedicated by Governor Franklin D. Roosevelt in 1929 and opened for traffic in 1936.
This highway remains open to this day. Drivers can access it May 20 through October 10 from 9 a.m. to 4 p.m., weather permitting. This two-lane road is just a little over 5 miles in length with an impressive climb of 2,300 feet, with an average grade of 8.7 percent. But what makes this road really amazing is that it has received only one maintenance activity in its lifetime—it was resurfaced 1963.
While this roadway currently exhibits some minor distress, that?s really insignificant considering that the pavement has been maintenance-free for more than 48 years. Talk about a perpetual pavement.
Its original construction consisted of 5 inches of a crushed (broken) stone base, 4 inches of a bottom course broken stone, covered with 3 inches of bituminous macadam. The resurfacing that was placed in 1963 consisted of a trueing and leveling course of asphalt concrete, 1.5 inches of asphalt concrete binder course and covered with 1 inch of asphalt concrete wearing course. The asphalt binder for these mixtures consisted of 50 – 56 percent flux oil and 44 – 50 percent hard (zero Pen) powdered asphalt.
The mix was produced using a cold process. The aggregates were first surface-dried at a temperature not to exceed 125¿F and then completely coated with the flux oil (stored at a temperature not to exceed 150¿F). Once coated by the oil, the hard, powdered asphalt was then added and mixed until evenly distributed throughout the mix.
Recent samples of the wearing course were taken and found to have an asphalt content of 3.1 percent, while the asphalt binder has a Pen of 18.
Not bad performance.