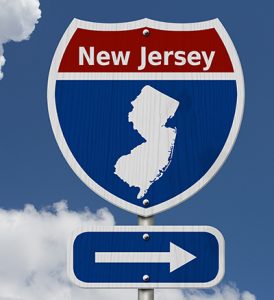 By Gregory A. Harder, P.E.
The New Jersey Department of Transportation (NJDOT) is often recognized nationally for its work with mixture performance testing – as they should be.
In 2006, Rutgers University initially began using asphalt mixture performance testing as a means to reverse engineer a specialty (proprietary) Bridge Deck Waterproofing Surface Course (BDWSC) mixture to be placed on the steel panels of the George Washington Bridge for the Port Authority of NY/NJ.
"We tried to get away from proprietary mixes that provided all this performance, so we just reverse-engineered the performance of these mixes using test methods that we chose to use," says Thomas Bennert Ph.D. from Rutgers University Center for Advanced Infrastructure and Transportation (CAIT). "Since we included both a rutting and a cracking test, this was really the beginning of our involvement with balanced mix design."
The first performance-related specification that was developed in 2007 for NJDOT was the BDWSC. This specification was based on the work previously done by Rutgers for the Port Authority but was slightly modified for NJDOT's use on concrete bridge decks.
In the same year, a High-Performance Thin Overlay (HPTO) specification was developed. This pavement preservation overlay was based on an NYSDOT 6.3mm mixture but NJDOT incorporated performance testing due to concerns with potential rutting. Other specialty mix performance-related specifications were developed in 2009 that included a Bottom Rich Intermediate Course (BRIC) and a Bottom Rich Base Course (BRBC). Each of these mixes has a different role or location within the pavement structure so they each have different mixture testing and performance requirements.
Around this same time, a surplus of RAP began to accumulate in New Jersey. "The accumulation of RAP is primarily due to having a mature and congested road network. Because of issues like curb reveal, clearance under bridges and NJDEP (New Jersey Department of Environmental Protection) regulations regarding increasing the elevation of the road in the vicinity of any streams and rivers, NJDOT is forced to mill on most of our rehab projects," says Eileen Sheehy P.E. (retired) former Bureau of Materials, NJDOT Manager.
"So NJDOT mills out 2 inches and replaces a 2-inch surface course which can only contain 15 percent RAP. In addition, many of the local governments also went to the same practice of mill and replace," added Sheehy.
At the request of industry professionals, NJDOT allowed five projects in 2010 allowing 25 percent RAP in the wearing course. The 2010 mixes that the industry constructed had major issues with obtaining compaction with only one of the projects being successfully installed. The RAP was just added to the mixes without doing any modifications to the mix designs.
A High RAP (HRAP) specification was subsequently developed in 2011 that included mix requirements for both the APA (rutting) and the overlay test (cracking) as well as an increase in VMA over their standard mixes. This new performance-related specification was unique for three reasons – the first being that the specification requires a minimum (not maximum) amount of RAP to be added – 20 percent minimum in the wearing course and 30 percent minimum in the intermediate course. The second reason is that the specification does not prescribe a specific PG grade of binder. Any grade is allowed provided the mixture meets all of the required mix properties. The third reason this specification is so unique is that the mixture criteria used is based on virgin mixes.
Since 2008, NJDOT has been collecting mixture performance test data on a number of their mixes with varying amounts of RAP and mixes without RAP. The approach is that if an HMA plant can produce an HRAP mix that meets the performance characteristics of a virgin mix, NJDOT is ok with that mix regardless of how much RAP or what binder grade is used. But be careful what you wish for. According to Thomas Bennert, more than 50 percent of the current standard mixes would not meet the mix performance testing criteria of a virgin mix. Not a surprise since all of the current standard mixes typically contain 15 percent RAP.
So why not just require performance testing on all mixes regardless of the amount of RAP used? Well, not so fast. All of this new testing brings a greatly increased workload for the field and central laboratory staff.
"Our testing staff sometimes struggles to keep up with the added workload that comes just from the performance testing of our five specialty mixtures," says Stevenson Ganthier P.E., Principal Engineer with the NJDOT Bureau of Materials. "While we would like to incorporate mix performance testing as part of our acceptance of standard mixtures, our current limited testing capabilities do not make this possible."
One way that NJDOT is looking to reduce this workload is through the use of surrogate testing of these mixtures during production. Recent work performed by Rutgers (Bennert) using Indirect Tensile Testing (IDT) at both high and intermediate test temperatures show a very good correlation to APA rutting and overlay cracking respectively. Using these two test methods greatly reduce specimen preparation time, reduce the number of specimens needed, and reduce the time it takes to run each test.
For NJDOT, even with the use of surrogate tests for mix acceptance, this improved efficiency may still not be enough. "While we are currently verifying the work done by Rutgers with the use of the IDT surrogate tests, we don't believe that this will allow us to be able to test all mixtures in the future. It will likely help us to keep up with the current testing of our specialty mixes," says Ganthier.
Harder is an Asphalt Institute Senior Regional Engineer based in New York.