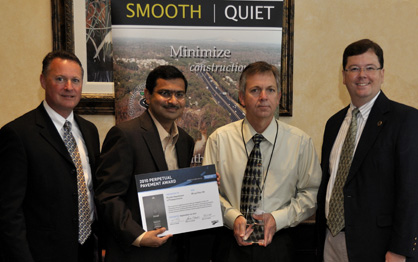 The APA presented the Florida Department of Transportation (FDOT) with a 2010 Perpetual Pavement award in September for a 4.3-mile section of northbound Florida State Road 45/U.S. Highway 41 in Sarasota County.
Secretary of Transportation Ananth Prasad and Assistant Secretary for Engineering Operations Brian Blanchard represented FDOT and received an engraved crystal obelisk and framed certificates. The award was presented at the Asphalt Contractors Association of Florida (ACAF) annual conference, September 12 – 13. Representing the APA were Brian Clark (AI), Mike Kvach (NAPA) and Jim Warren (ACAF).
"Florida's roads are consistently rated among the best in the U.S. Improved pavements in Florida are the result of several things, such as adopting Superpave in the late 90s, using polymer-modified asphalts, resulting in better rutting and cracking performance and use of contractor quality control specifications," said Blanchard.
To date, the APA has awarded 75 Perpetual Pavement awards. This is Florida's first award.