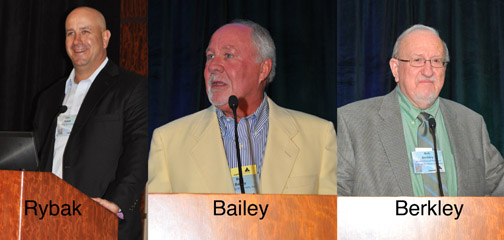 The Asphalt Institute (AI) named Clint Rybak of Phillips 66 Company their 2014 Chairman of the Board of Directors at the group's annual meeting in Fort Lauderdale, Florida in December.
Steve Smithey of BP Asphalt was named Vice Chairman of the institute for 2014.
Rybak is the Manager of Asphalt Marketing for Phillips 66 in Roxana, Illinois. He previously served as AI Vice Chairman in 2013. He also served as chairman of the AI Finance Committee and the Public Policy/Relationships Committee.
AI awarded two Distinguished Service Awards at the meeting.
Robert D. (Bob) Bailey, President of Kokosing Materials, Inc. in Fredricktown, Ohio was presented the Distinguished Service Award.
Bailey served AI on the organization's marketing committee, membership task force, as a board of directors member and an active Asphalt Pavement Alliance volunteer. He is retiring after 45 years in the asphalt industry.
Association of Modified Asphalt Producers (AMAP) Executive Director Robert (Bob) Berkley was also given a Distinguished Service Award.
Berkley is considered the founding father of AMAP and also worked as President and CEO of Polymer Asphalt Products in St. Louis.
Descriptions of the awards and a list of past AI honorees can be seen here.
The Asphalt Institute was founded in 1919 and is the international trade association of petroleum asphalt producers, manufacturers and affiliated businesses. AI promotes the use, benefits and quality performance of petroleum asphalt.