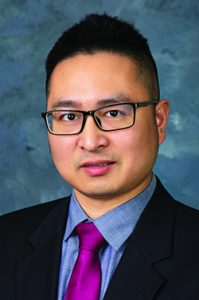 We talk with leading educators and researchers to learn more about the people and topics of asphalt technology.
Dr. Shenghua Wu, Ph.D., P.E., LEED AP is an Assistant Professor at the University of South Alabama in the Department of Civil, Coastal and Environmental Engineering.
What drew you to transportation engineering?
I started off my bachelor's degree in structural engineering due to my fantasy of becoming a structural engineer, however, I switched to transportation engineering when I was fortunate enough to work with my advisor on a research project about utilizing steel slag as a base layer for highway pavement. I really enjoyed that problem-solving process and the connection to the industry. Due to his encouragement, I continued my academic pursuits of a Ph.D. in pavement engineering at Washington State University. I have to say that transportation engineering is not a fantasy, but a reality that can provide down-to-earth opportunities to excel, working with thousands of professionals to build a strong, resilient and sustainable transportation system.
How is the use of cold mix asphalt construction sustainable?
Asphalt is hard at ambient temperature. When in production, we need to heat it up and make it liquid to be blended with aggregate at 320°F or higher, which we name "hot mix asphalt" because it is very hot. Cold mix asphalt, on the contrary, is produced at ambient temperature, with the aid of emulsion or rejuvenator technology. If we just look at the benefit of reducing production temperature, cold mix asphalt would significantly reduce carbon emissions and energy consumption. In addition, cold mix asphalt allows using recycled materials such as reclaimed asphalt pavement (RAP). We had a demonstration project on a low-volume road in Santa Rosa Beach, Florida, which used 100% RAP cold mix with a rejuvenator as a surface layer. Considering its cost-effectiveness, environmental friendliness and societal benefits, cold mix asphalt construction is a sustainable technology.
What are some recycled products were are likely to see incorporated into asphalt pavements?
I always joke that we can put pretty much place any recycled material into asphalt pavements, as more than 95% of roadways in the U.S. are surfaced with asphalt. Those recycled products include reclaimed asphalt pavement, recycled asphalt shingles, steel slag, recycled concrete aggregate, glass, plastics, polymers, waste cooking oil, engine oil, chicken feathers (serving as fiber) and even coffee grounds (containing antioxidants that help mitigate aging). However, the bottom line is that we engineers must ensure the performance is good, particularly in long-term field performance. If we can't place high standards on quality and durability, it does not matter what recycled products and how much can be incorporated into asphalt pavements. What we really want is a safe, smooth and durable asphalt roadway we can ride on every day.
What are some ways roads can become smarter to combat climate conditions?
Climate change is not a cliché. It is happening and we are experiencing more frequent and dire disasters in our existing transportation infrastructure due to extreme weather events. One of the significant damages to roads is flash flooding and inundation, compromising the structural integrity and leading to catastrophic failures such as sinkholes. Engineers can design and implement porous asphalt pavement or open-graded friction courses that have high air voids to help stormwater runoff management, reduce hydroplaning and ensure the safety and efficiency of roadways all year. We can also rely on sensor technologies and UAV (unmanned aerial vehicles) to monitor road conditions and provide a smarter network that provides a timely forecast, protecting all roadway users.
Where should today's students focus their asphalt pavement research?
People used to chew asphalt like chewing gum to check if the asphalt is rigid or soft. Nowadays, we have many advanced testing devices to evaluate the behavior of asphalt. I'm in favor of exposing students to the laboratory and getting their hands dirty, visiting world-class research facilities and pavement construction sites and connecting with industry. I have been working with undergraduate students working on projects like designing asphalt pavements containing recycled glass, repurposing waste plastics into porous asphalt pavement and evaluating the effects of seawater on cold mix asphalt performance in coastal regions. It is always good to connect personal interests with the industry and community needs – finding a new way to "chew" asphalt.