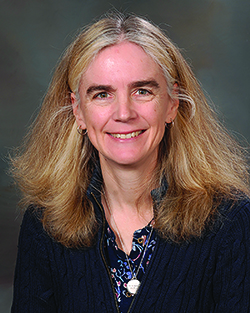 We talk with leading educators and researchers to learn more about the people and topics of asphalt technology.
Dr. Amy Epps Martin, Ph.D., P.E., FASCE is a professor at Texas A&M University's Zachry Department of Civil & Environmental Engineering and a Research Engineer at the Texas A&M Transportation Institute.
What drew you to transportation engineering? 
I always enjoyed math and science in high school and my dad served as a role model to me as a civil engineering professor in asphalt materials. I received my B.S. in civil engineering at UC Berkeley and decided to stay there for graduate school to gain more specific knowledge. I focused on traffic engineering for my M.S. and then switched to asphalt materials for my Ph.D. under Professor Carl Monismith, who also served as my dad's advisor. We were honored to be the first known father-daughter PhDs in civil engineering.
How are asphalt rejuvenators (recycling agents) improving pavement performance when it comes to mixtures with reclaimed asphalt pavement (RAP)? 
Rejuvenators (recycling agents) can be utilized as a mitigation strategy for asphalt mixtures with high recycled materials (including reclaimed asphalt pavement (RAP) and recycled shingles (RAS)) content to partially restore both components of bind-er rheology (stiffness and flexibility) and improve mixture cracking performance initially and with aging. The use of rejuvenators does require careful engineering of each unique combination of materials (virgin binder and aggregate, recycled binder, and additives including rejuvenators and/or warm-mix asphalt (WMA) additives).
With increased RAP usage, which areas warrant more research and attention from the industry to ensure quality asphalt pavements?
An issue that still needs to be addressed is the durability of mitigation strategies for asphalt mixtures with high recycled materials (RAP/RAS) content that includes using a softer virgin binder or utilizing additives including rejuvenators and WMA additives. The durability of these strategies with aging and exposure to moisture is of critical concern. In addition, there is a continued challenge of practically capturing field aging in different climates in the laboratory, especially for modified binder blends and mixtures.
What have you learned about moisture susceptibility when it comes to warm mix asphalt pavements? 
NCHRP 09-49 and NCHRP 09-49B evaluated the moisture susceptibility of WMA and developed guidelines for identifying and limiting this durability issue. These guidelines for mix design and quality assurance (QA) include evaluation tools with appropriate aging protocols and thresh-olds for three standard laboratory tests based on the performance of four field projects. These guidelines also recognize the positive effects of summer aging on moisture susceptibility and recommend caution for some materials combinations constructed late in the season that precludes summer aging prior to exposure to detrimental moisture in the winter.
In what area should today's students focus their asphalt research? 
I think there will be a continued interest in the sustainability of asphalt mixtures with recycled materials (RAP/RAS) due to associated significant economic and environmental benefits. This will provide additional motivation toward the development of true balanced mix design systems to evaluate each unique materials combination with practical evaluation tools tied to field performance to ensure balanced resistance to rutting and cracking with aging and thus realization of the economic and environmental benefits without sacrificing engineering performance.