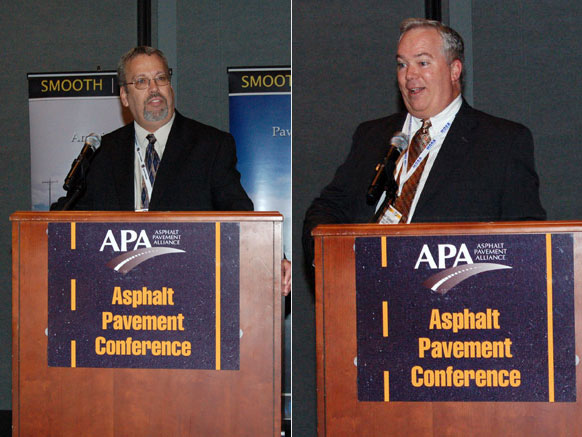 On March 9 – 10, 2009, 316 registrants attended the Asphalt Pavement Alliance's Asphalt Pavement Conference at the World of Asphalt Show in Orlando, Fla. This year's conference theme, "Sustainability, Design & Construction," highlighted a wealth of information on the sustainable aspects of asphalt pavements — including recycling, warm-mix asphalt, porous pavements and long-life pavements.
An array of speakers presented over the day-and-a-half-long conference, including Jim Musselman (Florida DOT) who spoke on RAP, John Bukowski (FHWA) who talked about green highways, and Matthew Corrigan (FHWA) who presented about warm-mix asphalt.
Session one was moderated by new AI Regional Engineer Danny Gierhart. AI's Bob Horan, Carlos Rosenberger and Mark Buncher were also presenters at the conference on the topics of intelligent compaction, life-cycle cost analysis of long-life pavements and designing mixes using the Bailey method.