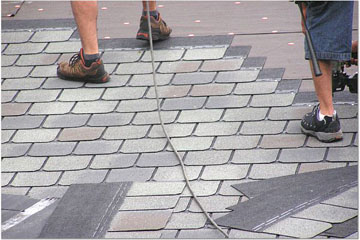 By John Davis
Asphalt roofing manufacturers are using more polymer modified asphalt (PMA) in their roofing shingles with positive results.
Although most standard roofing shingles are still made with blown asphalt, roofing manufacturers are increasingly using PMA, or styrene-butadiene-styrene (SBS) for their upgrade and premium shingles.
Most of the shingle manufacturers that we talked with agreed that the addition of SBS produced a superior shingle. They also agreed that the use of SBS in residential shingles would increase in the next decade.
"Asphalt modification is increasing," says one roofing manufacturer. "We're using less neat asphalt and more polymer modified."
Although roofing manufacturers are using more PMA to produce their premium quality shingles, most are still relying on blown asphalt to produce their standard or entry-level shingles.
"Our premier impact-resistant shingles, Timberline ArmorShield, use polymer modified asphalt. We also use polymer modified asphalt in our Capstone hip and ridge product," says David Jenne, Executive Director, Raw Materials Purchasing for GAF Materials Corporation.
Weathering and impact-resistance
Better weathering and impact-resistance are the two primary benefits of using SBS in asphalt roofing shingles.
"SBS makes a dramatically superior shingle," says Greg Malarkey of Malarkey Roofing Products. "We've been using SBS in our roofing shingles since 1986. We use it in combination with virgin asphalt to produce our premier shingle – the Legacy line."
Malarkey says SBS shingles are definitely stronger and weather better. "They need to have enough polymer in them," Malarkey says. "Most asphalt shingles are modified with 6 to 7 percent SBS, but more is needed."
He suggests using 8 to 12 percent SBS for the optimum residential shingle.
Ed Todd, Director of Product Management for Atlas Roofing, says their SBS-modified shingles resist cracking and shrinking in both hot and cold weather climates.
"SBS causes our shingles to withstand weathering longer," says Todd. "We use SBS in our StormMaster line because the SBS provides better adhesion to hold the surface granules better, and it also causes them to weather longer. The granules stay on the shingle longer than with conventional blown asphalt."
"The granules reflect the sun's UV rays and keep the shingles from weathering. They don't wear off or blow off as quickly when the shingles are polymer modified," says Todd.
"A polymer modified shingle has increased resistance to cold weather and weathers better too," says GAF's Jenne. "An inner layer of polymer makes a difference in the shingle's performance."
SBS polymer modified shingles are also useful for hip and ridge work and for impact resistance because of their flexibility.
Self-healing shingle
According to Jenne, the use of polymer modification increases the range of conditions and uses where shingles can be marketed. For example, hip and ridge impact-resistant shingles can be used where hail is prevalent. Some insurance companies are offering significant discounts to their customers for using impact-resistant shingles in storm prone areas.
"The flexibility gained by adding SBS in a residential shingle also enables the shingle to heal itself," says Jenne. "If the SBS shingle cracks and it's flexible, it can heal itself. Adding polymer to the shingle also increases its resistance to cold weather and thermal shock."
High winds and hail
Impact-resistance is another key element that manufacturers are building into contemporary shingles. Manufacturers are increasingly aware of the importance of making a shingle line that can withstand high winds and hail storms.
"Hail storms account for 30 percent of the new roofs," says Malarkey. "Hail storms are increasing. Insurance companies in hail-prone areas like to see impact-resistant shingles."
ASTM tests show that polymer modified shingles can withstand high winds and hail.
"In one of the required ASTM tests, fan-driven wind is blown at 110 mph onto the shingles for two hours straight in an attempt to blow the shingles apart. In another ASTM test, wind gusts are blown onto the shingles to replicate wind storms of up to 150 mph, as well as, in another part of the test protocol, they try to pull them apart and measure the values," says Todd.
Hail storm tests
There are separate ASTM tests for impact resistance.
"We drop steel balls from 20 feet above the shingle to try and crack it. In the most severe test, we drop a 2-inch ball from 20 feet above on the shingle. Then we flip the shingle over. If it is not cracked on the underside, it passes the test," says Todd.
But roofing manufacturers are not looking for more strenuous tests to prove their shingles can withstand hail. If the shingle is too hail resistant, the cost may outweigh the benefit. Manufacturers are looking for real-world tests that will guide them in producing a solid impact-resistant shingle.
The future
Although SBS has been used in commercial roofing for many years, its use in residential shingles is relatively new. But, there is no doubt that its use in shingles will expand the premier shingle lines throughout the industry.
"I see tweaks, but not any brave new technology," says Todd. Polymer modified asphalt is the coming thing, he says. "Two out of our five product lines are made with SBS. We will continue to use SBS in the future."
"Roofing manufacturers are looking at other technologies. One of these is the addition of tire-rubber in the shingle. SBS together with tire-rubber (TR) technology can produce a shingle that weathers exceptionally well. A hybrid shingle—a combination of SBS and TR—reduces thermal shock and also resists low temperature cracking," says Bill Carlin of Wright Asphalt.
"SBS is opening up the range in markets," says Malarkey. "In the future we'll be able to make shingles for Arizona, as well as Alaska. We'll engineer asphalt shingles for the geographical area and the specific conditions."
Most roofing manufacturers agree that, whether tire-rubber or other technologies are incorporated in asphalt shingles, the use of polymer modification in the manufacture of asphalt roofing shingles will continue to grow.