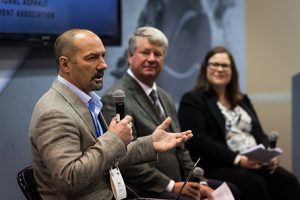 World of Asphalt and the National Asphalt Pavement Association (NAPA) recently announced the show's education program calendar, showcasing 120 education sessions that will be offered at the next World of Asphalt and AGG1 Academy in Nashville, March 29-31, 2022. This includes the five most popular sessions asphalt paving pros can use to build their businesses and skillsets.
"This is the best education lineup we've had in years," said World of Asphalt Show Manager Brittany Weltcheff. "As with every year, we listen to what the industry and our attendees are saying about what they need, and make sure to have it."
The education conference by NAPA is divided into five different education tracks. People: Focuses on the important skills necessary to maximize job performance. Plants: Experts will evaluate and improve plant performance and keep the plant operating at peak levels. Paving: Learn important techniques to construct safe and smooth quality pavements at optimum efficiency and enhanced profitability. Pavement Preservation: Learn techniques used to extend the life of pavements such as seal coats, in-place recycling, and crack sealing. Environment, Health, Safety & Sustainability (EHS&S): Obtain the tools, best practices, and innovations to build a world-class EHS&S culture.
"The People, Plants and Paving offerings are essential to the asphalt pavement industry," said Dr. Audrey Copeland, president and CEO of NAPA, majority-owner of the show. "Now is the time to look through the education sessions, create your list of sessions you can use to build your skillset, and then register."
Held every year except during CONEXPO-CON/AGG years, World of Asphalt is the leading trade show and conference focused on the asphalt and paving industries. The next World of Asphalt, co-located with the AGG1 Academy & Expo, will be held March 29-31, 2022 at the Music City Center in Nashville, Tennessee. For more information on World of Asphalt, visit WorldOfAsphalt.com.