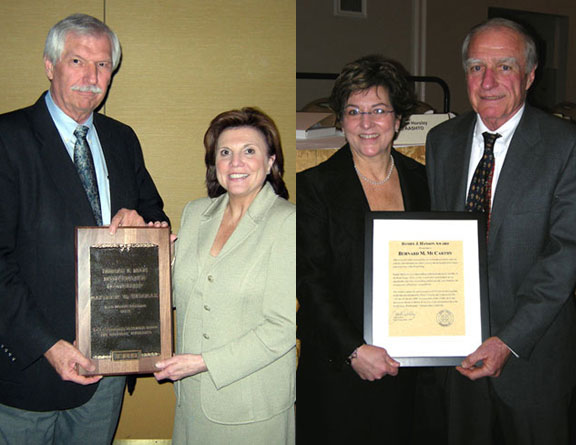 The Transportation Research Board (TRB) Annual Meeting was held Jan. 13 ? 17, 2008 in Washington, DC. TRB Executive Director Bob Skinner noted during the week that the event continues to set attendance records with over 10,500 attendees this year.
On Monday at TRB, Dr. Matthew W. Witczak of Arizona State University was honored with the 2008 Thomas B. Deen Distinguished Lectureship Award. This award recognizes the career contributions and achievements of an individual in areas covered by TRB's Technical Activities Division. Dr. Witczak delivered a lecture entitled, Pavement Performance Research Implementation: Its Uniqueness, Complexity, and Recommendations for Acceleration into Practice. He is the 17th recipient of this award. Witczak is a 2002 Asphalt Institute Roll of Honor recipient. The first Deen award was given to Carl Monismith in 1992, also an AI Roll of Honor recipient.
At the Road Gang Annual Meeting Luncheon, held in conjunction with TRB in Washington, DC, Bernie McCarthy, former AI Vice President for Industry Affairs, was presented the Daniel J. Hanson Award in recognition of his long and dedicated service to the Road Gang. McCarthy is the 13th recipient of the award and it was presented by Road Gang Chairwoman, Janet Oakley, who is the Director of Policy and Government Relations for AASHTO. Assisting with the presentation was former Hanson Award winner Doug Bernard. McCarthy is a 2004 AI Roll of Honor recipient.
Also on Monday, a session was held entitled "Dialogue with Leaders in Design and Construction of Transportation Facilities." This honorary forum of distinguished experts included Dr. Claine Peterson, a 2004 AI Roll of Honor recipient, and Dr. Donn Hancher of the University of Kentucky.