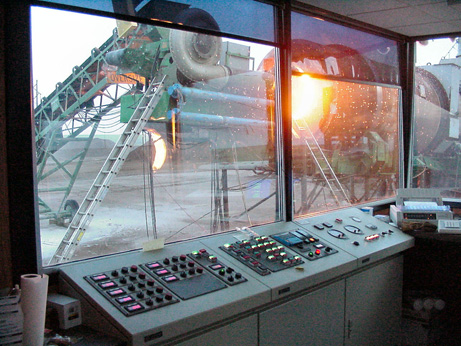 By John Davis
New technology in asphalt mixing plants around the country involves warm mix asphalt (WMA), recycling, fuel economy, the environment, retrofit and maintenance. Of these, WMA and recycling are the hottest items. But cost reduction, timely maintenance and "going green" are not far behind.
The hottest item, and the one many plant manufacturers are producing new equipment for is warm mix asphalt. WMA technology is influencing the entire asphalt industry.
"Plant operators and contractors are embracing a technology that reduces costs, uses less fuel, lowers temperatures, allows the use of more RAP and reduces emissions," says Roger Sandberg of Maxam Equipment, Inc. He adds that plant operators are looking at costs and cost reduction closer than ever.
Mixing plant manufacturers are promoting equipment that fits this trend toward warm mix, recycling, cost reduction and environmental concerns. Following are some of the producers of this equipment and their products. Not only are plant owners and contractors looking at fuel economy and environmental issues, they are increasingly concerned about product availability and storage. Consequently, some asphalt plant manufacturers are currently producing storage units for contractors and terminals.
The information listed below is intended to provide an update on some of the new plant equipment available. Inclusion here is not an endorsement of a particular brand or methodology.
Astec
Astec of Chattanooga, Tennessee, manufactures hot mix asphalt equipment and a complete line of portable, relocatable and stationary asphalt facility equipment. Astec's new equipment includes the second generation Double Barrel Green System which provides users several benefits: more simple control—all valves open at the same time; minimal hot oil jacket—one-third the size of the original; and no asphalt cement foaming valves to maintain.
Astec's Green Pak System expands the benefits of the Double Barrel Green warm mix system to any asphalt plant owner or operator. The Green Pak warm mix system can be retrofitted to continuous mix or batch plants from any manufacturer. The Green Pak System allows a plant operator to decrease fuel consumption 14 percent by decreasing the mix temperature by 50 degrees. Green Pak also eliminates smoke and fumes, increases production, and allows the operator to run higher percentages of RAP.
As for recycling, the Double Barrel® dryer/mixer is a combination aggregate dryer and hot mix asphalt mixer with high productivity and low operating costs. The Double Barrel Green drum mixer can run up to 50 percent RAP with no added fuel cost.
StansSteel
Stansteel of Louisville, Kentucky, produces the Accu-Shear™ Dual Warm Mix Additive System. The Accu-Shear is a warm mix system that has a turbulent shear process to force the liquids together. It offers the advantages of accurately injecting water, other liquid additives or a combination of these.
To maintain the integrity of warm mix on batch plants, Stansteel also produces the Accu-ShearB. This unit is custom engineered for each facility and its configuration is based on the ton-per-hour rate and the cycle time. A provision for operating without processing warm mix is included.
Stansteel's NiteOwl Advantage Plant Alert System allows the plant operator to call and check on the liquid circulating oil temperature and make sure their asphalt cement is still hot. Another advantage is that the alert system also monitors other critical items affecting the plant, such as power outages due to lightning strikes or the need for the unit to be reset.
Stansteel has redesigned the Turbo RAP Gator Recycling Breaker to handle the demands of chunks of asphalt and millings that have been stuck together in the RAP piles. The RAP Gator knocks them down to size so that heat transfer to the RAP is more efficient.
Systems Equipment Inc.
Systems Equipment Inc. of Waukon, Iowa, manufactures controls and metering equipment for both large and small asphalt plants and terminal operations. "We specialize in keeping existing plants current," says Dave Enyart Sr. of Systems Equipment.
Systems Equipment sells terminal systems, control systems and complete control systems. They replace all signal devices, scales, feeder drives and cables.
Enyart says that plant owners are looking at the future. "Complete replacement often scares owners off, but replacing and updating their system makes sense to them in this economy," says Enyart. "We're good in the retrofit market," says Enyart. "We specialize in controls, not baghouse additions or replacements."
Enyart adds that asphalt binder storage by contractors is the "next big thing" as larger contractors are looking to acquire their own terminals. "And there is a current push being made by the next generation of terminal owners to build their own storage. We're hoping to augment that push in 2010."
Reliable
Reliable Asphalt Products of Shelbyville, Kentucky supplies parts and components for all types of makes and models of asphalt plants. Reliable also produces and installs AquaFoam, a cost effective water injection asphalt foaming system used in the manufacturer of warm mix asphalt. AquaFoam lowers fuel costs, reduces smoke, fumes and emissions and increases the plants ability to run RAP.
At the heart of the AquaFoam system is a hydro-dynamically engineered injection accelerator. The AquaFoam pump skid consists of a positive displacement pump, controlled by a Variable Frequency Drive (VFD). One of the available choices of control systems to fit the need of each plant begins with an on-skid control. This essentially allows the manual setting of the VFD for precise water amounts, to a completely self-contained stand-alone computer-controlled system to allow fingertip control from the plant control-house.
Maxam
Maxam Equipment, Inc. of Kansas City, Missouri, builds new asphalt plants and replaces asphalt plant parts. They also design and develop new asphalt plant equipment. Maxam's newest product, the AQUABLACK Warm Mix Asphalt System, retrofits any asphalt plant quickly and easily.
"Warm mix asphalt is a hot item," says Maxam's Roger Sandberg. "And so is recycling.
Specifications around the U.S. are falling in line with WMA and the surge in recycling."
With AQUABLACK the operator can run more RAP and stay within the temperature limits of the baghouse. AQUABLACK lowers fuel consumption as much as 15 percent.
Lower fuel consumption translates directly into lower emission of greenhouse gases at the plant and reduces or eliminates fumes and smoke at the plant load-out and at the laydown site, according to Sandberg. "It's the "green thing" to do," says Sandberg. "More and more asphalt companies are adapting their marketing programs to fit the green emphasis."
Another new item used to protect baghouses from fluctuating temperatures when plant operator's change from hot mix asphalt to warm mix is Maxam's patented MAXAMizer Heat Recovery System. It automatically maintains proper stack temperature +/-5°, and typically saves 5 to 10 percent in fuel consumption.
CEI Enterprises, Inc.
CEI Enterprises specializes in providing innovative solutions to environmental challenges and producing innovative production equipment for HMA plants. The following are some of CEI's innovative solutions.
CEI has been making equipment designed to handle crumb rubber in liquid AC for years, but the Asphalt-Rubber Reaction Tank is CEI's latest ground tire rubber (GTR) mixing equipment. It can mix up to 35 tons per hour using up to 20 percent GTR. The system is portable and consists of a mixing unit and one or more reaction tanks — -all equipped with wheels and suspension for highway travel. More than two dozen CEI ground-tire rubber blending plants are in use in the western U.S.
CEI's Vent Condenser for liquid AC storage tanks significantly reduces the amount of light volatiles that exist in a liquid AC storage tank. CEI condensers feature multiple-pass technologies that incorporate replaceable filtering elements and options such as external cooling that puts liquid AC storage tank exhaust temperatures under 120°F.
CEI's double-walled liquid AC and fuel tanks prevents fuel and liquid AC spillage of all kinds. The double-wall tanks have an outer wall to ensure that fuel and liquid AC stays where it belongs.
The CEI RAP King drum mixer can run mixes with up to 50 percent RAP content without visible emissions. The drum-within-a-drum design also creates a cleaner production process. Hydrocarbons emitted from the materials in the outer mixing chamber are pulled back into the inner drum, where they are consumed by the burner flame. According to CEI, the RAP King is 4 percent more efficient than a similar-sized counter-flow system when running virgin mixes and 15 to 20 percent more efficient when running 50 percent RAP.
 
John Davis is a contributing editor for Asphalt magazine.