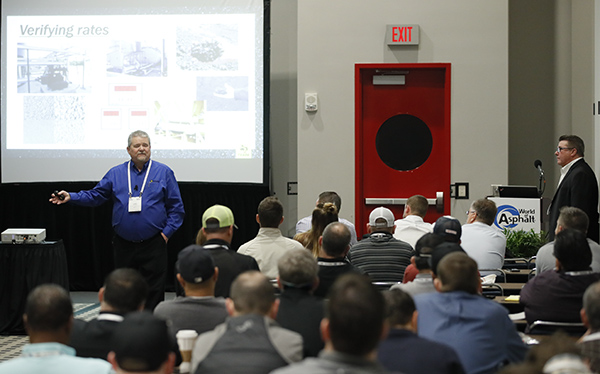 By Lisa Wolf
Stop what you're doing, and immediately block your calendar for February 12-14, 2019, because there's someplace you've got to be: the World of Asphalt Show & Conference and AGG1 Academy & Expo, taking place at the Indiana Convention Center in Indianapolis, Indiana.
This is the asphalt industry's largest exhibition and education conference, and you should be armed with as much information as possible so you can get the absolute most out of attending. With the theme "Paving the Future," you can count on seeing and experiencing world-class innovation, education and networking while you are there.
First and foremost, the World of Asphalt Show & Conference and AGG1 Academy and Expo is a trade show exhibition. Companies, organizations and trade associations come from all over the world to exhibit the latest in equipment, machinery, technology, products and safety.
At last year's show, attendees walked the massive 174,000 square feet of floor, featuring nearly 500 exhibitors sharing the latest innovations and products in the asphalt, aggregates, traffic safety and pavement maintenance sectors. A list and floorplan of this year's exhibitors are available on the World of Asphalt website, so you can color-code and map out your plan of attack. Advice: pace yourself, wear comfortable walking shoes and bring a stack of business cards.
Another equally important aspect of the show is the People, Plants and Paving Conference education seminars offered daily starting at 7:00 a.m. Depending on your area of interest, there are several education tracks you can follow: People, Plants, Paving, Pavement Preservation and Environment, Health, Safety & Sustainability (EHS&S). Visit the education section of the website for details on the tracks, session topics, schedule and purchasing passes. Advice: make the most of your morning hours and attend education sessions before the exhibition opens.
Arguably one of the most valued benefits of attending World of Asphalt/AGG1 is the networking opportunity. Last year in Houston, over 8,300 attendees from all 50 states, all 10 Canadian provinces, and over 60 countries visited. Twenty-five allied groups and associations from the U.S., Canada and worldwide, including the Asphalt Institute, National Asphalt Pavement Association (NAPA), the Asphalt Paving Alliance, Federal Highway Administration (FHWA) and Women of Asphalt, to name only a few, attend and exhibit.
No matter where your interest lies within the asphalt industry, be it equipment, chemicals, hauling, mixing, software, safety or technology, there are myriad exhibitors for every aspect with whom you can visit, not to mention the thousands of attendees. Advice: start reaching out now to folks you may want to meet there to plant a seed and leave time in your agenda for all the new contacts you'll make there.
Bottom line, don't miss the World of Asphalt Show & Conference and AGG1 Academy and Expo, being held February 12-14, 2019 in Indianapolis.
Visit the website worldofasphalt.com for even more helpful information.  See you in Indy!
Wolf is International Sales Director for Road Science, a division of ArrMaz.