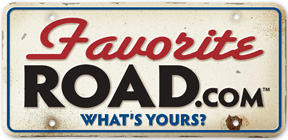 Asphalt magazine is pleased to announce an innovative new project, FavoriteRoad.com. This new Web site will showcase photos and stories of favorite roads because it asks one simple question of the driving public: "What is your favorite road?"
FavoriteRoad.com is a site for people who are passionate about their driving experience. Drivers often overlook the importance of the road and the role it plays in that experience. FavoriteRoad.com will draw attention to the roads that drivers like best and why. When posting a photo or story, the site will prompt users to also indicate the pavement type of the road.
"We are excited about the launch of FavoriteRoad.com. This initiative will create positive PR through testimonials about the public's enthusiasm for great roads and their realization that their favorite roads are paved with asphalt." said Peter Grass, president of the Asphalt Institute. "The timing is right to launch this new site in conjunction with the nation's increased focus on infrastructure."
FavoriteRoad.com will launch in early November 2009 with an industry sneak peak at the Southeastern Asphalt User/Producer Group meeting, Nov. 9 – 12, in Hilton Head, S.C. Prior to its launch, the site will be populated with favorite road stories from individuals throughout the industry. Marketing efforts to the general driving public will begin in January 2010.