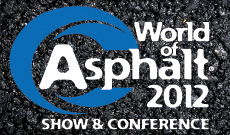 Asphalt Institute engineers, staff and members will be active participants at the 2012 World of Asphalt show and conference in Charlotte.
The Asphalt Pavement Alliance's Asphalt Pavement Conference (APC) will be held Monday, March 12 and Tuesday, March 13. This year's theme is "Innovations in Paving – Pavement Preservation with Plant Mix – Keeping Competitive."
AI Senior Regional Engineer Bob Horan, P.E. will discuss the latest intelligent compaction technologies. AI Regional Engineer Danny Gierhart. P.E. will expand on the benefits of using thin-lift asphalt overlays.
Advance registration numbers for the show are tracking at a record pace. The show floor is sold out and the shows' signature education programs are attracting very positive registration numbers.
The co-located AGG1 Aggregates Forum & Expo and World of Asphalt Show & Conference will be held March 13-15 at the Charlotte Convention Center in Charlotte, North Carolina, with a focus on the business needs of aggregates, asphalt, pavement maintenance and traffic safety industry professionals.
On the exhibit floor, 2012 show attendees will be able to examine and compare the newest products and technologies; more than 90 expert-led industry education sessions are scheduled and there?s plenty of opportunity to exchange information and ideas with industry peers.
Visit Asphalt Institute's booth at 1959 to check out our "Asphalt Outdoors Hunting Challenge."