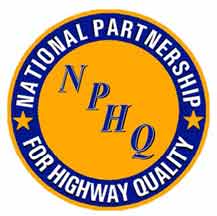 The National Partnership for Highway Quality (NPHQ) recently announced its "Making a Difference" awards for 2010 honoring projects that exemplify highway quality, safety and service.
These awards recognize overall project quality, partnerships between state departments of transportation and private contractors, creative approaches to public involvement, effectiveness in meeting deadlines, responsiveness to environmental needs and opportunities and adherence to other principles of quality management.
The Michigan Department of Transportation received the Gold Award for "Making a Difference – Workforce Training" for its Michigan Construction Quality Partnership (MCQP). That partnership emphasizes a unique approach to expanding training beyond just the mandatory technical certifications for materials testing and acceptance. The program's curriculum of more than 120 courses focuses on joint-training efforts and encompasses discipline areas such as design basics, quality control, and safety. Those participating in MCQP include MDOT, the Federal Highway Administration, Michigan Infrastructure and Transportation Association, Michigan Concrete Association, Asphalt Pavement Association of Michigan, Michigan Recreational and Parks Association, American Council of Engineering Companies and County Road Commission of Maryland.
MDOT was also given the Gold Award for "Making a Difference – Partnering" for its partnership with Michigan State University (MSU), project consultant Bergmann Associates, Inc., and prime contractor Posen Construction, Inc., on behalf of the Farm Lane Underpass project on the MSU campus. This railroad grade separation project involved major roadway widening and reconstruction, two new railroad bridges, drainage and pump station and extensive utility infrastructure work.
MDOT also won the Gold Award for "Making a Difference – Breaking the Mold" for its collaboration with the City of Houghton, the Houghton Downtown Merchants' Association, design consultant U.P. Engineers & Architects and prime contractor Bacco Construction to rebuild a segment of U.S. 41.
The Oregon Department of Transportation (ODOT) tied with MDOT for the Gold Award for "Making a Difference – Partnering" for its innovative bridge program. ODOT worked with various environmental regulatory agencies to help minimize impacts while it repaired and replaced hundreds of aging bridges statewide. A key component of this State Bridge Delivery Program was ODOT's early planning and coordination with its regulatory partners to design a programmatic permitting process that addressed mutual goals while also allowing contractors maximum flexibility.
The Tennessee Department of Transportation's SmartFIX 40 project was given Gold Award for "Making a Difference – Public Communications." This project, the largest construction effort of its kind in Tennessee history, involved widening 2.5 miles of mainline Interstate 40, rebuilding two major interchanges, and improving approximately five miles of ramps and frontage roads as well as about three miles of city streets. TDOT involved local and state law enforcement, local government officials, University of Tennessee coaches, and even country music legend Dolly Parton to keep the public informed about the status of the 13-month project.
The Minnesota Department of Transportation (Mn/DOT) received the Silver Award for "Making a Difference – Workforce Training" for its Snow Plow Operator Training (SPOT) program. SPOT provides up-to-date training for all new Mn/DOT commercial motor vehicle drivers. The SPOT curriculum teaches trainees how to inspect, safely operate, and maintain Mn/DOT's plow trucks. While designed specifically for Mn/DOT personnel, SPOT is also offered to municipal, county, tribal government and other snow plow operator trainees throughout the state. Individuals from Iowa, Wisconsin, North Dakota and Illinois have also participated in the program.
The Kansas Department of Transportation (KDOT) won the Silver Award for "Making a Difference – Partnering" for its K-18 expansion project. The project, which was funded by $8.3 million from the American Recovery and Reinvestment Act, will accommodate the rapid growth of the army base at Fort Riley and the development of the nearby National Bio and Agro-Defense Facility in Manhattan. The project, which involves converting about two miles of K-18 between Fort Riley and Manhattan into a four-lane highway, has relied heavily and meaningfully on a partnership with the state, local communities, the U.S. Army, Union Pacific Railroad, consultant HNTB and others.
The Maryland Transportation Authority (MDTA) received a Silver Award for "Making a Difference – Public Communications" for its public outreach efforts during the Baltimore-area Interstate 95 and Interstate 695 Interchange project. This large-scale reconstruction project in a heavily traveled corridor included building 12 new bridge structures, setting up five sound barrier systems, and replacing two bridges. MDTA developed and launched a comprehensive communications program to keep the public regularly informed of reconstruction efforts and minimize potential traffic problems.
The Missouri Department of Transportation (MoDOT) was the winner of the Bronze Award for "Making a Difference – Workforce Training" for its job-training partnership with Paseo Corridor Constructors (PCC). Their program, the kciCON Project, offers minorities, women, and economically disadvantaged individuals a chance to learn a trade and launch a successful career in heavy construction. Individuals with skills to start work immediately can apply for on-the-job training through PCC. They are brought on as apprentices, learning the craft and accumulating hours toward journeyman status. There is also a pre-apprenticeship program available to help others obtain the skills and knowledge needed for construction work.
The California Department of Transportation (Caltrans) was given the Bronze Award for "Making a Difference – Partnering" for the I-15 Mountain Pass Improvement Project Partnership. That project entails constructing an asphalt concrete northbound truck-descending lane on Interstate 15 from Bailey Road to Yates Wells Road. Along with Caltrans, others in the partnership were prime contractor Vegas Paving, Inc., the Nevada Department of Transportation, Las Vegas Convention and Visitors Authority, California Highway Patrol, Nevada Highway Patrol, Terrible's Resorts and Desert Outlet Malls.
The North Carolina Department of Transportation received the Bronze Award for "Making a Difference – Breaking the Mold" for its Rainfall Estimate Website. This website provides tools that provide statistics on rainfall amounts anywhere in the state. The Rainfall Estimate Website determines rainfall amounts at specific sites over a defined period of time, sends e-mail alerts to users when one-half inch of rainfall has occurred and has access to local weather forecasts throughout North Carolina.
NPHQ is a national coalition of public highway agencies, industry organizations, and private firms founded in 1992 as the National Quality Initiative.