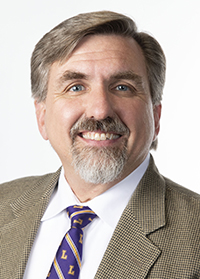 We talk with leading educators and researchers to learn more about the people and topics of asphalt technology.
Dr. Todd Lynn is the chair of the Civil Engineering Department at Lipscomb University in Nashville, Tennessee.
What drew you to pavement engineering? 
As an undergraduate at Tennessee Technological University, I completed a cooperative education program with the Tennessee DOT. I enjoyed everything I did with TDOT and had an opportunity to work with some talented and encouraging people. It was with TDOT that I first developed an interest in materials and tests that would grow stronger as well as evolve into a strong interest in pavement engineering. As I continued my studies, the influence of one of my professors, Dr. L.K. Crouch, drew me further into pavements and challenged me to learn more about the topic. I loved working with materials and working in the laboratory. Crouch had completed NCAT's Professor Training Course so when I expressed an interest in graduate school, he pointed me to Auburn University. At Auburn/ NCAT, I had the privilege of studying and working with many more talented pavement technologists including Ray Brown, Ken Kandhal and Doug Hanson. I value the investment each of these individuals made in me and I likewise want to invest in students to help them achieve their professional goals.
How has measuring compactability in the lab changed over the years? 
The ability to assess mixture stability during compaction has been around for a while and from a mixture/pavement design perspective it was the primary interest relative to pavement performance expectations. The advent of the SGC expanded the conversation to include mixture workability/compactability since these compactors can provide a means to characterize mixture compactability as well as a means for assessing mixture stability. We now have a number of indices that can be computed from SGC data to gauge compactability. While some of these have shown promising potential through research, I've yet to really leverage them in practice.
In what ways is technology helping pavement owners with quality control and assurance?
Technological advancements in communications and data management systems are perhaps as significant as technical improvements. Owners now can acquire information faster enabling better decision-making. Real-time (or at least closer to real-time) results are now possible. Non-destructive testing methods with GPS locations and digital photography/videography via smartphone provide for a greater number of tests with more precise records of locations.
What do you see as a sometimes-overlooked key to constructing a durable pavement?
I think there are actually two keys that are not so much overlooked as underemphasized. The first key is drainage, which arguably is a design parameter for promoting durable pavement. The second key is density (mat and joint) which is a critically important necessity for durable pavements. What we sometimes fail to recognize is that this understanding must be valued by all involved in the pavement construction process. It's also important to understand that achieving an acceptable level of density depends on many things including the strength of the underlying layers, thickness of paving, mixture properties, mix and ambient temperatures, wind speed, etc. which often vary throughout the project. These factors must be continually monitored and addressed as necessary in order to achieve the required density.
In what area should today's students focus their asphalt research? 
Balanced mix design development and implementation are key research areas in addition to research involving mixture/ pavement performance enhancement. I think an emphasis on sustainable solutions should continue. This includes effective use of recycled materials which may involve the development of additives to facilitate and use them effectively and economically. Finally, while we have come a long way in improving the construction of our asphalt pavements, I think there's an opportunity to improve in this area.