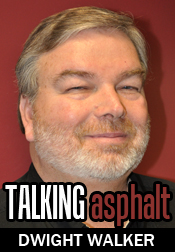 Last month, I listed several websites that I use for asphalt-related information. This time I want to recommend some training opportunities available at upcoming trade shows and conferences.
National Pavement Expo (NPE)
NPE was January 8-11 at the Greater Fort Lauderdale (Florida) Convention Center. This show is of particular interest to smaller asphalt operations and features a lot of patching-, sealing-, striping-type exhibits. It also had more than 50 classroom training sessions and several outdoor demonstrations.
Transportation Research Board (TRB)
93rd Annual Meeting in Washington, D.C. January 12-16
This one is intense – it's the "single largest gathering of transportation practitioners and researchers in the world," with attendees from throughout the U.S. and from 70 countries. There are 4,500 presentations covering all transportation topics, not just asphalt.
CONEXPO-CON/AGG
This is the big show! It's March 4-8 at the Las Vegas Convention Center. Show management is projecting that more than 130,000 people will attend this event. There will be 2,400 exhibitors showcasing the latest in equipment, technology and products. Some of the industries that will be represented are asphalt, aggregates, concrete, earth-moving, lifting, mining and utilities. An extensive education program, delivered by top-notch presenters, is available.
Association of Asphalt Paving Technologists (AAPT) Annual Meeting and Technical Sessions
The 89th annual gathering of AAPT will happen March 16-19 at the Hyatt Regency in Atlanta. AAPT is a leader in advancing asphalt paving technology. The presentations at the meeting provide information on the latest developments in asphalt technology by speakers from around the world.
Regional conferences/trade shows
An example of this is the 41st annual Rocky Mountain Asphalt Conference and Equipment Show. This one is February 19-21 in Denver, Colorado. Their program includes 21 education sessions, 28 breakout sessions, outdoor demonstrations, a plant tour, an asphalt lab tour and a 60,000 square feet trade show. This is just one of many of this type of training opportunity that will be held in the next two or three months. Check for one in your area. 
Asphalt Academy courses
The Asphalt Institute (AI) offers several excellent training options through its Asphalt Academy. The next Airport Pavement Technical Workshop is scheduled for Dallas/Fort Worth (TX) April 1-3. Six sessions of the Basic Binder Technician Training workshops held at AI's headquarters in Lexington, KY, are already filled. Additional sessions may be scheduled – if there is sufficient demand. A Basic Mixture Technician Training program is scheduled for January 28-31 at AI headquarters. Other popular training classes include Principles of Quality HMA Pavement Construction, held at several locations, and the two Bailey Method courses.    
Some AI training uses both classroom presentations and hands-on lab work. AI also offers custom training, both at their Lexington HQ and on-site. Additionally, there are numerous webinars available for those interested in that type of training. 
Regardless of your training needs, there are numerous opportunities available. I recommend that you find one (or more) that meets your situation.