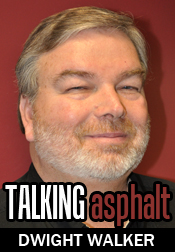 Wow, another year is about to end. I sure have not got everything done I planned. But, all-in-all, it's been a good year and there have been a lot of positive happenings. Now, it's time to start working to make 2014 an even better year. I believe it is largely up to us how it turns out. Here are some thoughts on preparing for the future.
To me, having access to information is really important. There are always new developments in the asphalt business, and it is important to keep up. My main sources for information are asphalt-related websites. Some of those I use are:

Asphalt Institute www.asphaltinstitute.org
This site has pages for news, events, state asphalt binder and emulsions specifications, member company information, and a link to www.asphaltmagazine.com (the home of this blog) and access to the latest issue of "Asphalt" magazine.
National Asphalt Pavement Association www.asphaltpavement.org
NAPA represents asphalt materials producers and paving contractors. Their site has similar types of information to AI's website.
Asphalt Pavement Alliance www.asphaltroads.org
The APA is a coalition of the AI, NAPA and the state asphalt pavement associations, with the goal of promoting the use of asphalt pavements through research, technology transfer, engineering, education and innovation. If you need information on perpetual pavements, this is the site to click. They also have several informative, downloadable publications.
National Center for Pavement Preservation, www.pavementpreservation.org
FP2, www.fp2.org
The preservation center is a collaborative effort among government, industry and academia to advance pavement preservation through education, research and outreach. FP2 supports the adoption of pavement preservation at all levels of government. Both websites offer excellent resources for pavement preservation information.
AEMA www.aema.org; ISSA www.slurry.org; ARRA www.arra.org
The Asphalt Emulsion Manufacturers Association is dedicated to the advancement of the asphalt emulsion industry and has an excellent network for information exchange and technology transfer. The International Slurry Surfacing Association promotes the use of slurry, micro-surfacing, chip seals, and crack treatments in pavement preservation. The Asphalt Recycling and Reclaiming Association works to promote the recycling of existing roadway materials, to preserve natural resources, and to reduce costs through education, alliances, and partnering at the industry and agency level.
Some other sites that I use and recommend are:
www.warmmixasphalt.com
This site promotes the understanding of warm mix asphalt in the U.S. and does not promote any specific WMA technology.
www.Intelligentcompaction.com
This site covers what you need to know about intelligent compaction.

Other good sources of information include the FHWA and state DOT websites and those of the state asphalt pavement associations. Many materials producers and contractors also have worthwhile websites. Just do a search on your topic of interest and check the available sites. You will probably find all the information you need.
I'm writing this the day before Thanksgiving, and I am reminded that I have much to be thankful for. I'm sure you do, too. As this year winds down, take some time for yourself and for your family and friends.
Best wishes for a happy holiday season and for a safe and successful 2014!