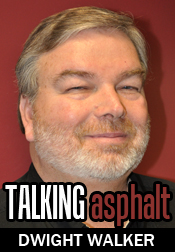 The Asphalt Pavement Alliance (APA) recently released the results of a March 2014 survey of 3,000-plus drivers (including commercial truck drivers) from across the United States asking them to identify "the road attributes of greatest importance to them."
Before getting to the survey results, a little information on the APA may be helpful. For those readers who may not be familiar with the APA, it is a partnership of the Asphalt Institute, the National Asphalt Pavement Association and the State Asphalt Pavement Associations. Not surprisingly, the APA's mission is to establish asphalt as the preferred pavement choice. To achieve this goal, the APA uses research, technology transfer, engineering, education and innovation. The APA has a very informative website, www.asphaltroads.org, with lots of good asphalt-related resources.
Now, on to the survey findings. Essentially, drivers want safe, smooth, well maintained roads. No surprises there. Drivers made it clear that they wanted pavement maintenance done without closing the road. Asphalt scores very well in this area, with its ability to do the work during off-peak hours. Asphalt can be placed or maintained using night-time paving and no extended curing times, resulting in quick opening to traffic.
Regarding smoothness, again asphalt is the obvious choice. Smooth roads cause less wear-and-tear on both vehicles and drivers, which saves money and causes less frustration. Smooth pavements last longer and require less maintenance. Drivers said they were OK with periodic maintenance work, if it meant having a smoother ride. Asphalt also scores great in protecting the environment, with its ability to be recycled.
Safety is an obvious preference. When given a list of 14 factors to consider when building a road, more than half the responders chose safety as a top priority. Asphalt's smoothness helps to make it inherently safer, with fewer driver distractions and less fatigue. There are specialized asphalt mixes that address specific safety concerns. High-friction, polish-resistant aggregates can be included in the surface layer. The surface texture provided by open graded friction courses (OGFCs) and SMA mixes provide additional skid resistance. Additionally OGFCs drain rainfall from the pavement surface and reduce spray and increase visibility.
Another survey finding was that 86 percent of passenger vehicle drivers and 78 percent of commercial drivers felt that "spending priorities should focus on the maintenance and repair of existing roads, rather than on building new roads." The survey also found that a majority of drivers support new or additional funding mechanisms for roadway maintenance and construction.
I'm glad to see that drivers are recognizing that we will pay one way or the other. Bad roads cost us all – vehicle repairs, longer travel time, more accidents, etc.
It sounds like drivers are asking for asphalt, to me. We've got the best pavement-type choice. For more information, go to www.DriveAsphalt.org/Drivers.