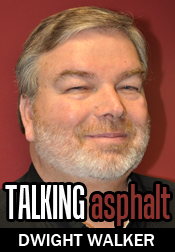 By Dwight Walker
Recently, I have been hearing the term, "sustainability," used a lot. I have a general understanding of what it means, but I'm not really comfortable with the word. So, I decided to see what I could learn about sustainability as it applies to asphalt and highway construction, and to share it with you.
I tried to find a clear, concise definition for sustainability. One explanation that I found says, "Building sustainably means enabling economic growth through infrastructure development that uses natural resources efficiently, minimizes environmental impact and enhances quality of life for individuals and communities."
OK, that helps a bit. But, I like the one that Kent Hansen, Director of Engineering for the National Asphalt Pavement Association (NAPA), used in one of his presentations better. Hansen defined sustainability as: "Development that meets the needs of the present without compromising the ability of future generations to meet their own needs." Sounds like sustainability means something like "building responsibly" to me.
I did find that asphalt has a lot of sustainable attributes. Asphalt is a good pavement investment. It is incredibly versatile and it is quiet. It has a favorable carbon footprint. It can help with improving and/or maintaining water quality. And it is readily recycled.
Let's look at asphalt's versatility. In addition to being the paving material of choice (94 percent of the paved roads in the U.S. have asphalt surfaces); it can be customized to meet any number of specialized applications. Big-stone base mixes can carry incredible loads; stone matrix mixes are virtually non-rutting; open-graded friction courses reduce noise levels significantly, etc.
Asphalt pavements are faster to construct and to repair, leading to less congestion and less energy being consumed. There is no waiting time for an asphalt pavement to cure. After it is compacted and cools, it is ready to be opened to traffic. Asphalt pavements require 20 percent less energy to produce and place the mixes than other pavement types.
Porous asphalt installations on parking lots, roads, and walking or bike paths allow rainfall to infiltrate the ground rather than become runoff. The water quality is improved and the need for detention basins is eliminated. Asphalt-lined reservoirs are used for drinking water storage and fish hatchery ponds use asphalt as liners. Landfills are sealed and capped with asphalt.
Modern asphalt mixing plants are efficient and have little emissions. Between 1970 and 1999, the asphalt industry decreased their total emissions by 97 percent, while at the same time, increasing production by 250 percent, according to a NAPA report. That's impressive.
The Asphalt Pavement Alliance (APA) has a new white paper, "Carbon Footprint: How Does Asphalt Stack Up?" The paper looks at asphalt and concrete using a variety of accepted methodologies. Initial construction and a 50-year life-cycle were analyzed. According to the APA, "In all cases, the carbon footprints of the asphalt pavement were found to be less than 30 percent of equivalent Portland cement concrete pavements."
The asphalt industry really excels in recycling and recyclability. The asphalt industry reclaims approximately 100 million tons of asphalt pavement materials per year. 95 million tons of that material is reused or recycled each year. Additionally, other materials are routinely recycled into asphalt, including used tires, roofing shingles, blast furnace slag, etc.
So, it seems to be me that asphalt is doing its part to be sustainable.