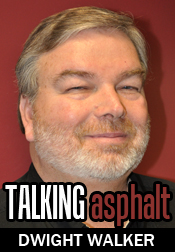 If you are a reader of "Asphalt" magazine, you know I have been writing a series of articles on pavement preservation. I have become a supporter of this type of work. It just makes sense to protect our investments in existing pavements. There are several treatment options for preserving asphalt pavements, including chip seals, slurries and micro-sealing and thin HMA (or WMA) overlays.
Thin overlays are commonly chosen as the preservation technique. And, in Ohio, they are not new. In fact, a section of SR 32, in Pike County, received a second thin overlay treatment in 2012. These overlays must be working – if they are selected for repeated use. Ohio DOT's Fine Graded Polymer Asphalt Concrete, Type B, is "Smoothseal."
Latest overlay
The Shelly Company placed the 2012 overlay. The overlay was a ¾-inch thick overlay and contained 6.8 percent PG 76-22. The mix was a blend of three sizes of limestone (#8s, #9s and manufactured sand), natural sand and 10 percent RAP. The fine-graded nature of the mix is illustrated by the small amount of aggregate retained on the #4 sieve; 88 percent passes the #4 sieve. The mix was a Marshall design for heavy traffic. The latest overlay lived up to it "smooth" description. The average IRI (International Ride Index) for the project was 32.7.
2002 overlay
The original, 2002, was one of the first Smoothseal jobs let to contract in Ohio. It was also a ¾-inch placement. After 10 years of service, the original overlay was still in solid shape. The Pavement Condition Rating was in the upper 70s. It had crack sealing performed twice and was described as "showing oxidation." It had performed well enough for ODOT to choose to place another Smoothseal. The 2012 project was a Flexible Pavements of Ohio award winner.
Overlay benefits
Thin overlays provide several preservation benefits. Well-constructed overlays are really smooth and add some structural improvement to the pavement. They can be quickly opened to traffic and provide extended service life (about 10 years). Another advantage to using thin overlays is that most contractors are familiar with the technology. Like all preservation treatments, thin overlays are best applied to pavements in sound structural condition. Milling may be needed prior to constructing the overlay.
Regardless of the choice of treatment option, pavement preservation makes sense. If you are a pavement owner, you cannot afford to ignore preservation work. It's like ignoring a leaky roof – you will have to fix it eventually and the longer you wait, the more it will cost.
For more information on thin overlays, watch for the article in the next issue of "Asphalt" magazine.
Email Dwight at talkingasphalt@asphaltinstitute.org to talk more about asphalt.