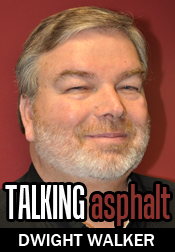 It's January, so it is training time. Think you don't need training? Let's see. What do you know about MSCR? Or AMPT? How about designing warm mixes? Or RAS mixes?
The need for training is constant. There is always new technology and personnel turn-over. By-the-way, MSCR is Multiple Stress Creep Recovery (a new asphalt binder characterization test) and AMPT is Asphalt Mixture Performance Tester.
If you need training, and you or your staff probably does, there are an incredible number of opportunities. And some of them are probably at a location near you. Even if travel is a problem, there is probably a webinar of interest to you.
Here's a brief look at some of the available options:
Asphalt Institute seminars and webinars
AI has long been known for its strong training program, now known as the Asphalt Academy. Many of the sessions are held at the lab (some with hands-on lab work) at AI headquarters in Lexington, Kentucky. These include asphalt binder testing (remember MSCR), mix designs, and Bailey analysis. Some courses offer certification for those who are interested. Regional training covers HMA pavement construction and airport pavements. Customized training to fit your needs is also available. More information is available at asphaltacademy.org.
Trade shows
The biggest and best of the trade shows is World of Asphalt. The next show is scheduled for March 18-21 in San Antonio, Texas. NAPA's "People, Plants and Paving" sessions are always good. This year also features information on environment, health and safety with sessions by "world-class presenters and practitioners." NAPA also offers webinars. More info is available at www.worldofasphalt.com.
There are many other trade shows and regional conferences coming up. The National Pavement Expo (www.nationalpavementexpo.com) in Nashville, Tennessee (January 23-26) offers a lot for smaller operators and owners.
State asphalt paving associations
Most of the state associations have conferences featuring training. Some have elaborate training and certification programs. For example, the Texas Hot Mix Asphalt Center (www.txhmac.org) has dozens of sessions. Many of these sessions are well attended; the last one I worked in Kentucky for PAIKY had about 700 people. Some sessions use break-out sessions to get people to the topics they want to learn about. Check with your local association to learn what is available.
LTAP programs
The Local Technical Assistance Program (LTAP) is a FHWA technology transfer program which provides technical assistance to local highway departments in the U.S. Training is a big part of their work. Every state has this program; most are run by universities but a few are managed by the state DOT. (www.ltap.org)
Training by private companies
Training is offered by a wide range of companies, including equipment manufacturers, testing labs and consultants, local paving firms, etc. Volvo's Road Institute (www.volvoce.com) is an example of training offered by equipment makers. Their courses are for paving contractors, operators, and agency and industry personnel – and you do not have to own their equipment. Operator courses include both classroom and hands-on training.
PRI Asphalt Technologies (www.priasphalt.com) is one of the testing firms offering training. Internet training is available through companies such as Pavia Systems (www.paviasystems.com). Another practical source of training is local companies. Many contractors do training for staff and customers with the presenters ranging from in-house personnel, to state DOT personnel, to national experts.
Training is available; don't fall behind.
Best wishes for a safe, healthy and prosperous 2013!
Email Dwight at talkingasphalt@asphaltinstiute.org