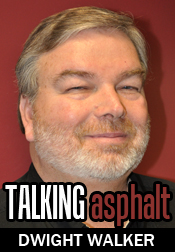 I just got back from the World of Asphalt (WOA) show in San Antonio (a beautiful and interesting city). If you've never been to WOA – you ought to go; it's a big deal.

More than 6,000 people attended. There were people from all 50 states, 8 Canadian provinces and 50 countries worldwide. At the Asphalt Institute booth, I talked with people from the Ukraine, Siberia and several Central and South American companies. WOA is truly a multicultural event. AI's Spanish-language publications were a big hit at the booth.
WOA serves as a showcase for the latest in asphalt-related equipment and services. The big manufacturers are all there, and there were a few that you probably are not familiar with (yet). There were 385 exhibitors, occupying 123,000-plus square feet. I thought the number of people attending might have been off a little bit, but the exhibitors seemed to have a pretty steady group of interested people waiting to talk to them.
The training opportunities are first rate. I attended several presentations and found the presenters to be knowledgeable and capable speakers, and there was plenty of time for questions. I got several ideas for future columns and articles.
Several organizations hold their own meetings in conjunction with WOA. The Oklahoma and Texas Asphalt Pavement Associations did so, along with Association of Modified Asphalt Producers and the Rubber Pavements Association. More than 25 industry organizations were official supporters of World of Asphalt and co-located AGG1 2013.
For me, the best part of WOA is seeing old friends and associates. It's like a family reunion. I got to see people that I work with regularly but rarely see in person. I also got to meet several people that I had been exchanging emails with. It was nice to meet them personally.
Most people I talked with seemed to have a sense of cautious optimism for the asphalt business for this season. We probably won't have record production levels but most expect to have steady work. I hope it works that way. I drove from Lexington, Kentucky to San Antonio, mostly on primary highways, and I saw a lot of work to be done. We need to find the funds and get the work under contract. We need to preserve our pavement investment. A lot of pavements are showing minor distress and, if not addressed soon, will require more costly work later.
I enjoyed WOA and I encourage you to go to the next one. The next one is in Baltimore, Maryland at their convention center in 2015 (March 17-19). Next year the big show, CONEXPO-CON/AGG, is in Las Vegas (March 4-8). It's even bigger.