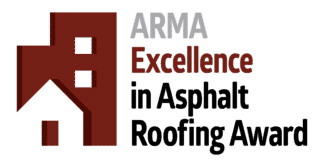 The Asphalt Roofing Manufacturers Association (ARMA) is now accepting submissions for the 2022 Excellence in Asphalt Roofing Awards Program.
ARMA encourages all North American roofing contractors to submit their best low and steep-slope asphalt roofing projects from the past three years for consideration by December 1, 2021.
"Our program places great emphasis on excellence. Every year we see more and more contractors rise to the occasion and we hope that this year will be even better. Every entry we receive reinforces that asphalt roofing is beautiful, affordable, reliable, and the preferred roofing solution." said Reed Hitchcock, ARMA's executive vice president.
There is no limit to the number of entries a company may submit if each project meets the program criteria. Projects will be judged in four categories: beauty, performance, the decision to use asphalt and distinctiveness.
Winning companies will be recognized during the 2022 International Roofing Expo, Feb 1-3 in New Orleans. Winners will receive a monetary prize.
The Excellence Awards submission form, along with the full program guidelines, can be found at asphaltroofing.org/excellence.
ARMA is a trade association representing North America's asphalt roofing manufacturing companies and their raw material suppliers.