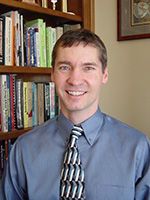 The National Center for Asphalt Technology (NCAT) has named Randy C. West its new director. West will lead NCAT, a joint effort between the NAPA and Auburn University, which works to improve HMA performance through research, education and information services.
West replaces Ray Brown, who directed the center for 17 years. Brown retired August 1st to accept a position with the U.S. Army Corps Engineer Waterways Experiment Station in Vicksburg, MS. With over 20 years of experience in the HMA industry, West brings a wealth of experience in the industry and NCAT to the table.
As NCAT's assistant director, West led research on a broad range of pavement issues, including recycling of hot mix asphalt, mix design and materials characterization, quality assurance, pavement construction and pavement failure investigations. Prior to joining NCAT, he worked as a research engineer for the Florida Department of Transportation and for APAC, Inc. in Atlanta, where he advanced to director of Materials, Plants and Quarry Services.
West earned his bachelor's and master's from Auburn in 1987 and1989 respectively, and doctorate in civil engineering from the University of Florida in 1995. He is a registered professional engineer in Georgia and Florida and active in ASTM, AAPT, National Transportation Board, NAPA, and a number of committees dealing with HMA research, specifications and training.