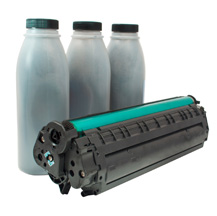 By Lora Robosky
In the nineties, work began on recycling waste printer and copy machine toner into asphalt. Toner is a carbon powder melt-mixed with polymer and can contain up to five percent iron oxide, polypropylene, silica, organic pigment, ferrite and other additives.
Waste toner may originate from either the manufacturing process or post-consumer from copiers and printers, with quantities estimated as high as 25,000 tons annually.
Waste toner is unique compared to other items that are being recycled in asphalt in that it contains polymer that could, in theory, positively impact asphalt quality. The polymer type varies but may be a styrene acrylate copolymer or styrene butadiene copolymer.
In the field
Early field trials by Ayers and Tripathi in Oklahoma and by Diamond in Nevada were conducted by adding the toner directly to the aggregate. Diamond reported the toner as difficult to work with due to the fine black dust generated and determining the amount of toner that was actually used. Diamond also reported issues with rolling, flaking and poor adhesion.
In later, more successful trials the toner was added to the asphalt binder. A notable field trial was completed in 1997 by Texas Department of Transportation (TxDOT) and the Center for Transportation Research at the University of Texas. In this Waco, Texas project, waste toner was blended with the asphalt binder and ultimately 5,000 tons of toner-modified hot mix asphalt paved a two-kilometer, six-lane highway. The highway was observed to be in excellent condition after about two years.
In September 2000, a TxDOT patent covering toner-modified asphalt compositions was granted. Subsequent research was completed with three test sections in Houston, Laredo, and Pharr districts. According to TxDOT, additional projects have not been completed mainly due to the cost of waste toner.
Fine print concerns
A close look at published work on the effects of toner on asphalt properties indicates that waste toner stiffens the asphalt binder with the effect being greater at higher toner levels. The preferred method of incorporation is blending the toner into the asphalt at a temperature above the melting point of the toner. With the addition of toner, the high temperature properties of the binder improved while the low temperature properties were compromised.
For example, Dr. Mansour Solaimanian of Penn State reported the grade change of a PG 64-28 to PG 70-22 with the addition of ten percent waste toner. The optimum binder content in a Superpave mix design was not affected by the addition of this toner level.
Dr. Yetkin Yilidirim of the Texas Pavement Preservation Center noted a similar stiffening effect and also noted an issue with separation during storage that the asphalt-toner mixture required agitation before mixing with aggregates. Variations between toners were also described, suggesting that lab study is required prior to the use of each toner source.
Overall, researchers noted that asphalt containing recycled waste toner was expected to perform satisfactorily in warmer climates where high temperature performance is critical and where low temperature performance is less of a concern.
New Zealand news
In March 2011, media reports surfaced on a new collaboration in New Zealand formed to utilize waste toner in polymer-modified asphalt. The collaboration project between Ricoh New Zealand Limited, Croxley Stationery Limited and Downer New Zealand Limited was awarded funds from the Ministry for the Environment's Waste Minimization Fund to advance the work.
Additional private funding was also needed. In the press, John Vercoe with Downer noted lab results showing up to three percent of waste toner can be added into the polymer mixture and one percent waste toner can be added into the straight asphalt.
Vercoe was quoted as saying, "It doesn't enhance our product but it doesn't detract from it, either." At these concentrations, he adds that it is feasible for New Zealand to incorporate all of the recycled photocopier toner into asphalt.
In a recent update, Vercoe noted how the success in Downer's Mt Maunganui laboratory has lead to full-scale trials. The manufacturing trials overcame handling issues with loose recycled toner by packaging the toner in meltable plastic bags. The toner-modified asphalt paved an arterial road successfully, with the paving crew identifying no changes in the laying characteristics of the mix. The collaborators in the New Zealand project agree that the Waste Minimization Fund supported project has been a success, demonstrating the project as technically feasible and viable with minimal modification to existing production processes.
The collective efforts with waste toner show some progress toward successful recycling into asphalt. However, significant hurdles remain concerning both the cost of waste toner versus alternatives and how toner effects asphalt quality and performance.
Robosky is Asphalt Technology Manager for Marathon Petroleum Company.