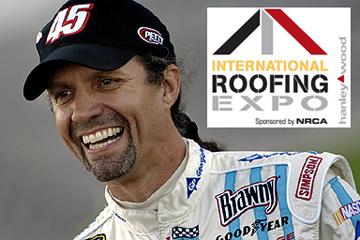 NASCAR's Kyle Petty will present the keynote address during the 2012 International Roofing Expo, February 22-24, at the Orange County Convention Center in Orlando, Florida.
Taking place Wednesday, February 22, from 9:45 am to 10:50 am, Petty will present, "What a Ride: Life, Family, Community and the Race Track," in room #S320A in South Hall A.
During this moving presentation, Petty takes audiences on an anecdotal journey through his life as a businessman, philanthropist and as one of NASCAR?s most respected drivers. He explores consistently striving for excellence, living up to your promises, teamwork, helping the community and commitment to family.
"With NASCAR taking place the same week as our show, we really wanted another speaker from the NASCAR world," said Lindsay Roberts, Director of the Int'l Roofing Expo. ?As a member of NASCAR's most famous family, Kyle Petty is the perfect replacement."
The International Roofing Expo is a two-day event designed for commercial and residential roofing professionals to stay abreast of market directions, trends and cutting-edge technology. The official show sponsor is NRCA.