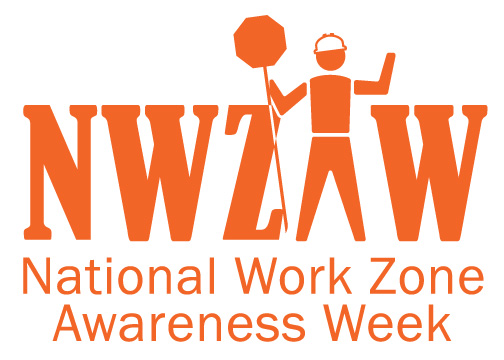 National Work Zone Awareness Week (NWZAW) will be observed April 17-21 with this year's theme of "You play a role in work zone safety. Work with us."
NWZAW has been observed for more than 20 years and was launched as a public awareness campaign to help everyone understand they play a role in keeping motorists and roadway workers safe. This year's national kickoff event is scheduled for April 18 in Rocheport, Missouri, and is hosted by the Missouri Department of Transportation (MoDOT).
NWZAW got its start in 1997 when a group of VDOT employees in southwestern Virginia wanted to dedicate a week to raise awareness of work zone safety among all district employees ahead of the busy roadway work season. The next year, VDOT presented the idea for a national awareness campaign to the American Traffic Safety Services Association (ATSSA), which, in turn, approached the Federal Highway Administration (FHWA) and the American Association of State Highway Transportation Officials (AASHTO). The groups finalized plans and launched the first national kickoff event in 2000.
Statistics from the National Work Zone Safety Information Clearinghouse show there were 774 fatal crashes in work zones resulting in 857 deaths in 2020. In addition, 117 roadway workers were killed in work zones. The vast majority of people killed in work zones were motorists, passengers and pedestrians. Those statistics demonstrate the importance of work zone safety and participating in NWZAW to spread the message that everyone plays a role in getting roadway workers home safely.
As part of NWZAW, everyone is encouraged to participate in Go Orange Day on April 19 and to observe a moment of silence on April 21 for people killed in work zone incidents.
On Go Orange Day individuals are encouraged to wear orange as a visual reminder of work zones and post photos on social media using the hashtags #NWZAW and #GoOrange4Safety.
State departments of transportation, federal agencies and other organizations will be participating in NWZAW and distributing public service announcements about work zone safety and hosting events to highlight the issue.
In addition to ATSSA, MoDOT , FHWA and AASHTO, NWZ AW partners now include the Federal Motor Carrier Safety Administration (FMCSA), National Highway Traffic Safety Administration (NHTSA), Occupational Safety and Health Administration (OSHA), the Maryland State Highway Administration (MSHA), D.C. Department of Transportation (DDOT), Associated General Contractors (AGC), and American Road & Transportation Builders (ARTBA), plus support from many people and organizations touched by work zone safety.
To learn more about NWZAW, visit nwzaw.org.