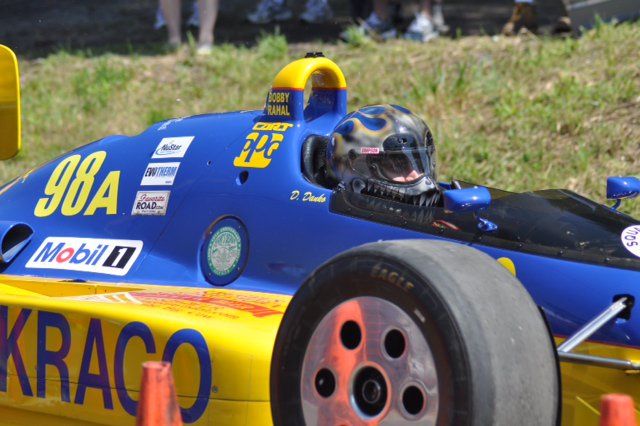 Drivers, spectators and asphalt industry officials were on hand for the 105th annual Giants Despair Hillclimb in Wilkes-Barre, Pennsylvania July 9-10 – paying special attention to the road surface.
The uphill 1-mile road course was freshly paved just two weeks before the race by Pikes Creek Construction and Wilkes-Barre Materials with Evotherm warm mix asphalt supplied by NuStar Energy. Before this paving, the course was 10 years old.
Drivers said the new pavement was a significant improvement over the old course and traction was outstanding for a new road. In this video, look closely to see logos for NuStar, Evotherm and the Asphalt Institute's website www.favoriteroad.com on the hood of Jack Danko, Sr.'s Ford Continental Indy car just to the right of the steering wheel.
"Every driver said the road conditions were excellent. The new pavement material and a good contractor certainly make a difference," said George Willis, Maintenance Director from Frank Martz Coach Company and Darryl Danko's crew chief.
The Giants Despair Hillclimb is a Sports Car Club of America (SCCA) hillclimb road race established in 1906 just outside Wilkes-Barre in Laurel Run. It is the oldest continuing motorsport event in Pennsylvania and one of the oldest road races in the U.S.
The course is 1 mile of steep asphalt with six turns including the aptly named "Devil's Elbow." It is a timed race with the fastest car to the top named the winner. The current record holder is Darryl Danko, who ran the course in 38.360 seconds in 2007. Danko took the 2011 victory as well with 42.187 seconds in his 1973 Gurney Eagle.
Representatives from FavoriteRoad.com were on hand to award prizes to spectators and educate the public about the value of asphalt roads. NuStar and Evotherm were prize sponsors and Ron Corun (NuStar) and Mike O?Leary (Evotherm) helped staff the booth.