The Asphalt Institute (AI) developed a white paper titled "Pyrophoric Material Formation in Heated Asphalt Storage Tanks."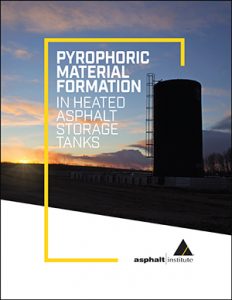 The purpose of this document is to provide information on pyrophoric material formation in heated asphalt storage tanks. The document provides a summary of published information on this topic as a starting point for the owner/operator and other users to evaluate potential pyrophoric material formation and prevention. It is not an attempt by the Asphalt Institute to establish guidelines or recommendations related to heated asphalt storage tank management.
The paper includes references so readers can perform a more detailed evaluation if desired. It presents two heated asphalt storage tank accidents that identified pyrophoric material ignition as the cause. Other topics include background information on pyrophoric material, potential sources and formation causes in heated asphalt storage tanks.
The document highlights how fires in heated asphalt storage tanks can be prevented by implementing methods such as an air sweep, headspace blanketing, etc. There is a stressed importance of routine inspections and cleaning.
This document was developed by a task force consisting of members of the AI Health, Safety and Environment committee and the AI Technical Advisory committee. The idea behind the document arose as a result of a presentation by staff from the National Fire Protection Association. During that presentation, it became apparent that the asphalt industry lacked information on pyrophoric material formation in heated asphalt storage tanks.
Kevin Hardin of Vecenergy headed the task force, other members include Bob Hockman from Tamko Building Products, Linda Osborn of Heritage Research, Eileen Dutton and Tony Silva from Malarkey Roofing, Andrew Cascione from Flint Hills Resources, Tom Lonyo and Brian Wilt from Marathon Petroleum, Jay Keating from IKO Industries, Tom Hecker of Vecenergy, Michael Foster of BP and Mike Southern from Eurobitume.
"I wish this information had been available to me 20 years ago," said Hardin.
The document is available as a free download at asphaltinstitute.org.