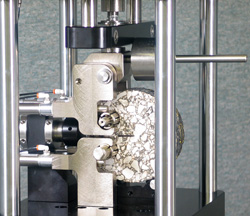 The Asphalt Institute laboratory received their Cox and Sons 25,000-lb universal test frame recently.
This new frame and control system expands AI's testing capabilities to include the new Disk-Shaped compact Tension test DC(t), ASTM D7313. This new test measures the fracture energy of a mixture sample as developed at the University of Illinois-Champaign.
The test frame is a state of the art unit that features special controls for running multiple tests from 80°c to -40°c.
For a quote on testing or to find out more information about the DC(t) test and other mixture performance tests, please contact AI Senior Research Engineer Phil Blankenship.
Contact: Phil Blankenship