By John Davis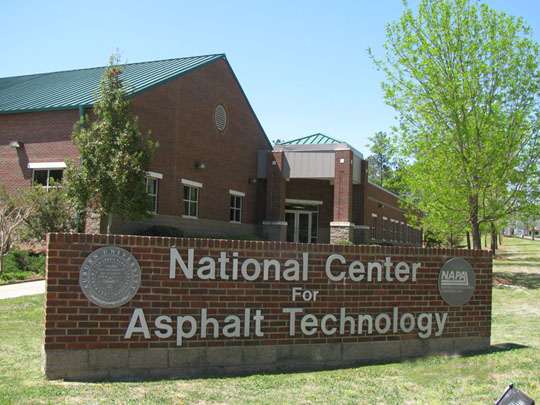 The National Center for Asphalt Technology (NCAT) is celebrating its 25th anniversary this year. It was created in 1986 through an agreement between the National Asphalt Pavement Association Research and Education Foundation and Auburn University.
Their goal was to be a world leader in hot mix asphalt research, technology and education in the areas of asphalt structural design, asphalt construction methods, materials and testing, performance measurement and prediction, pavement preservation, rehabilitation, recycling, maintenance, environmental and highway safety.
That goal was a tall order, but NCAT has come a long way in achieving it.
"NCAT has stayed true to its original mission over the last 25 years," says NCAT Director Randy West. "The first part of the mission was to provide practical research that can be applied by the asphalt industry. The second part was education and research, both academic and practical. The third part was to be an asphalt information resource for anyone who asks."
Ray Brown, NCAT Director Emeritus, echoes West's statement. "Our original focus was on asphalt research, education and technology transfer. The focus is still to provide new technology, develop new technology and disseminate it throughout the industry. Our focus really hasn't changed."
NCAT test track
West says that NCAT's widely acclaimed test track added to the practical aspect of NCAT's mission. "We can now test mixes and products in a very realistic way and give scientific and practical results that our clients can use."
The test track is a valuable tool in improving our research, says Brown. "It has changed the way we operate from day to day but hasn?t changed our goal."
The 1.7-mile test track has been an effective tool for improving asphalt mixture specifications and validation of mechanistic-based design models. The stress and strain measurements at the bottom of the asphalt layers in track sections have correlated well with predicted values, allowing these models to be used for a wide range of pavement materials and thicknesses at high speeds.
"As pavement engineers, we now understand the stress states and temperatures in pavement structures," says West. "And with better lab tests to assess asphalt mix properties under those conditions, we are better able to explore innovative paving materials."
Top priorities
West says that maintaining and expanding their mission is NCAT's primary goal. But, he says, there are important priorities within this goal. Three of these are:
Developing practical guidelines for users of Warm Mix Asphalt (WMA),

The proper and expanded use of recycled materials,

And improving understanding of how lab-measured mix properties relate to performance on the road.

"WMA is one of NCAT's top priorities," says Brown. "It's been gaining popularity for the last six or seven years, but we need to develop more guidance for WMA users."
Brown adds that there are now over 20 methods or technologies for WMA, but the industry may end up with three or four widely used methods.
Green initiatives
NCAT is working on a number of green initiatives. One of them is encouraging the use of higher percentages of Recycled Asphalt Pavement (RAP) in asphalt mixes to reduce the use of natural resources and to save money for the suppliers, contractors and motoring public.
Both West and Brown say that NCAT would like to see the increased use of RAP. Some states and localities use RAP up to the 40 percent range, although 15 percent is the range currently used by most state and local agencies.
"The reason for the initial problems in using RAP was because we didn't know what to do with it," says Brown. "As we slowly learn the good practices of handling and constructing RAP, we?ll use more of it. But we have to go slow and be sure that we are using it correctly."
Most significant achievements
NCAT has accomplished much over the last 25 years in research, education, testing and development, but West points to several major achievements. The first is the development of the ignition test, which measures asphalt content without the use of solvents. It?s safer and more accurate and does away with the danger of solvents.
The second is the asphalt textbook "Hot Mix Asphalt Materials, Mix Design and Construction," along with the Professor Training Course. The Professor Training Course was started in 1989 and has been taught every year but two. The course is now used by many universities around the U.S. NCAT has helped to encourage widespread academic research in asphalt pavements that was not in place 25 years ago.
Brown says that NCAT gives the schools and universities the textbook and the outline for the course, and then works closely with professors to promote its use. The textbook is also used in industry seminars and asphalt courses throughout the U.S. and in other parts of the world. The third edition of the textbook was completed in 2009.
Of course, the test track is an important part of NCAT's contribution to the industry, says West. Agencies and industry sponsors like the test track because it is the most realistic proving ground for pavement materials and structural design in the world.
"It has given us the ability to test field technologies in a safe and practical way," says West. "We're not subject to the hazards of highway test sections. We can stop traffic as needed to assess the conditions of the test sections."
Another key achievement is the daily interaction with Auburn University. NCAT is part of Auburn and the NCAT staff is employed by the University. NCAT's board of directors is composed of both university staff and contractors. West and Brown agree that the relationship with Auburn is important for NCAT's credibility.
Partnerships
Among other key achievements that West and Brown note are the partnerships NCAT has developed. When NCAT started there was some between State DOTs, the asphalt industry and the Federal Highway Administration (FHWA.)
"Now we have much better relationships—even partnerships," says Brown. "There is a desire to work together for a common goal."
West says that NCAT often looks for the best partners to co-op with. "There are a lot of smart people out there with expertise in different areas," he says. "We look for the one who fits the research need. And we try to keep an open mind. We want to do research that will best serve the needs of the sponsor."
Brown adds that partnerships may be the key to successfully implementing new technologies in the asphalt paving industry. He says that there is also a significant cost savings in partnering, as well as better pavement performance.
Congratulations to NCAT on its 25th anniversary. It has been true to its original mission and contributed in large measure to the constant improvement and development of asphalt technology in the U.S.