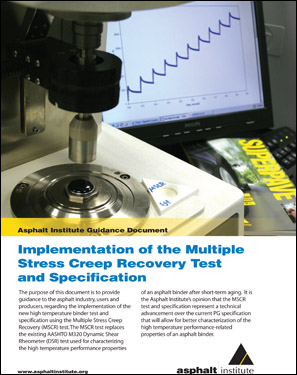 The Asphalt Institute (AI) recently released a 4-page document entitled Implementation of the Multiple Stress Creep Recovery Test (MSCR) and Specification.
The publication provides guidance for the asphalt industry, users and producers, regarding the implementation of the new high temperature binder test.
MSCR replaces the existing AASHTO M320 Dynamic Shear Rheometer (DSR) test used for characterizing the high temperature performance properties of an asphalt binder after short-term aging.
AI views the MSCR test and specification as a technical advancement over the current PG specification. The document details the background, implementation and tips for transition for MSCR testing.