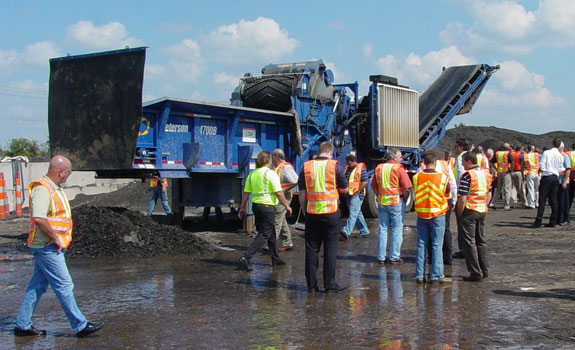 The Missouri Department of Transportation hosted a showcase entitled "Utilization of Recycled Asphalt Shingles in Hot Mix Asphalt" in Joplin, Missouri, September 22 – 23. Nearly 150 participants registered for the event. The event drew contractors, consultants and government engineers from 22 states and Canada.
The agenda included:
• Recycled asphalt shingles (RAS) history in Missouri and Minnesota
• Environmental procedures
• RAS Specifications
• QC/QA
• RAS mix design
• RAS Pooled Fund Study update
• A field tour of a shingle recycling operation and RAS pavement constructed in the Joplin area.
The showcase was sponsored by FHWA, the Missouri DOT, NAPA, the Missouri Asphalt Pavement Association, and the Asphalt Roofing Manufacturers Association.