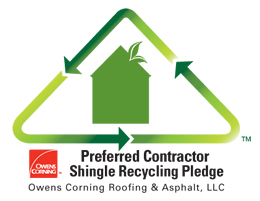 A well-known roofing manufacturer is inviting homeowners to take their "Shingle Recycling Pledge" as a way to show their commitment to keep old roofs out of landfills by working with roofing contractors who practice sustainable building practices.
"According to the Northeast Recycling Center, up to 10 million tons of recyclable shingles are removed from the roofs of U.S. homes and buildings annually," said Barry Hornbacher, Owens Corning Roofing and Asphalt Shingle Recycling program manager. "By pledging to work with professionals committed to recycling torn-off shingles into pavement, homeowners are helping to ensure their roofing renovation will have less of an environmental impact."
In addition to connecting with local contractors committed to shingle recycling, everyone who takes the pledge will also receive a free reusable tote bag, while supplies last. Homeowners who do not currently have shingle recycling available in their area can show their interest in shingle recycling by filling out a form on the website, which will help Owens Corning Roofing & Asphalt rally support from contractors in their local community.
Established in 2009, in alliance with Heritage Environmental Services and Earth911.com, the Owens Corning Roofing & Asphalt Shingle Recycling Program is currently active in 39 markets nationwide. Since its inception, the program has recycled more than 95,000 tons of asphalt shingles at the Heritage affiliate locations, the equivalent of saving 95,000 barrels of oil.
"Today's homeowners are more involved than ever in selecting the materials and building processes used on their home, with a greater emphasis on sustainable solutions," said Hornbacher. "By taking the 'Shingle Recycling Pledge', homeowners will gain a better understanding about the positive impact recycling shingles has on the environment and learn how they can become more involved in the process in their local community."