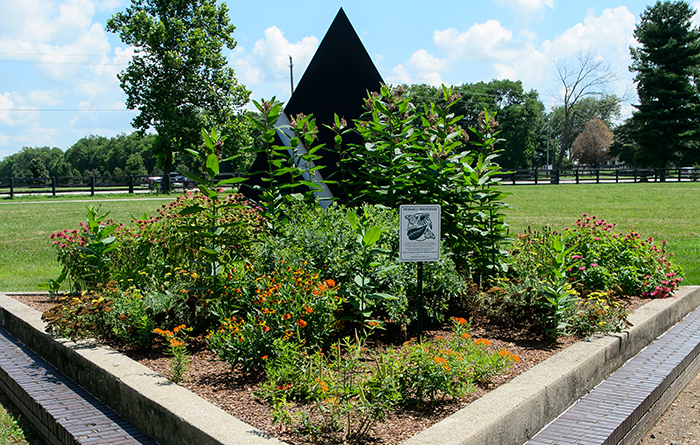 By Mike Anderson, P.E.
I work in a building in a great setting. Beautifully landscaped, overlooking a pond. Our landscaper is really conscientious and works hard at keeping the grounds looking nice.
I learned that we had received recognition as having an area of our grounds that was designated as a "Certified Monarch Butterfly Way Station."
All parts of that phrase made me smile.
The first part that triggered my curiosity was "way station." We didn't create a habitat or garden. This was not a home, just a stopping off point for monarch butterflies on their journey to wherever monarch butterflies go. They're a flighty bunch, refusing to be pinned down… except, of course, by lepidopterists.
As it is a way station I'm wondering if we should post some signs in the area saying "No Overnight Metamorphosis."
I'm also contemplating invoking the "any other duties as assigned" clause in the lab techs' job descriptions and assigning them to go out at 5 o'clock every day and shoo the butterflies away from the way station while singing "Closing Time" by Semisonic ("you don't have to go home, but you can't…stay…here.")
The second part that caught my attention was "certified." Our landscaper had to cultivate an area of our grounds according to certain criteria, apply to the appropriate authorities and await their decision on whether we met the criteria needed to be certified as a monarch butterfly way station.
While I may smile about the designation, the effort alone shows a commitment to achievement and should be properly recognized. It was something that our landscaper pursued intentionally and furthered her efforts by taking the time to apply and receive certification. I have to respect that.
It reminded me of the importance of certification and why we offer it through various programs at the Asphalt Institute.
For lab technicians, we have two programs in which they can attain certification – one just started this year and one that has been ongoing for ten years. The National Binder Technician Certification, or NBTC, program is the older sibling of the pair. It started in March 2008 in cooperation with the NorthEast Transportation Technician Certification Program (NETTCP). The purpose of this program is to provide a consistent means of ensuring that asphalt binder technicians are knowledgeable and qualified to produce valid quality assurance data. Simply put, the program is designed to help asphalt binder technicians be on the same page when following test methods. This should help reduce variability and improve confidence in the measured test values.
Is the concept working? It is difficult to quantify, but anecdotal evidence suggests that it is. I don't think it is completely coincidental that the between-lab variability (as derived from AASHTO re:source Proficiency Sample Program data) was approximately 33 percent lower for the rotational viscosity and PAV DSR tests from 2008 to 2016 – after the start of the NBTC program – than it was for the same tests from 2000-2007. Better equipment may be a contributing factor, but more skilled technicians have to also play a role. We're now past 350 certifications awarded in that same time period.
Following that successful model, the Asphalt Institute started the National Emulsion Technician Certification (NETC) program earlier this year. Same basic concept as the NBTC, just geared towards asphalt emulsion technicians. The goal is to reduce variability in test results and improve confidence by tightening up the testing practices of the technicians. We're hoping to see the same quantifiable improvement over time that we've seen with paving grade asphalt binders.
The NBTC and NETC programs are conducted at the Asphalt Institute in Lexington, Kentucky, but can also be conducted off-site at other labs…as long as the lab has sufficient equipment and training space. Just check our website for details.
Achieving certification is an important distinction for a technician. It means that the technician, and his/her company, care enough about quality to spend the time and effort to attend class, study, take and pass a written exam and demonstrate proficiency in lab testing. Being certified shows a level of commitment to quality and should be properly recognized…whether that certification is in asphalt emulsion testing or butterfly way station construction.
Mike Anderson is the Director of Research and Laboratory Services at the Asphalt Institute.