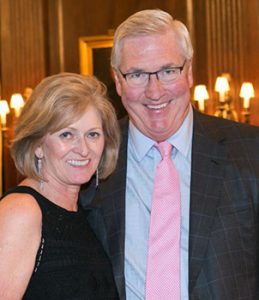 The Asphalt Institute Foundation (AIF) announced that a $500,000 gift from Bill and Shireen Kirk of Roanoke, Virginia will launch the new Bill and Shireen Kirk Scholarship Fund to assist need-based applicants with their higher education expenses.
Bill Kirk is the CEO of Associated Asphalt and is responsible for overseeing operations throughout the eastern United States.  His wife, Shireen Kirk, has served as the company's corporate counsel for over 15 years. 
The scholarships will be awarded annually to third or fourth year undergraduate, masters or doctoral students studying business, chemistry, civil engineering, construction management, marketing or sales.
"We are very proud to announce this endowed scholarship program," says Bill. "Shireen and I see this as an important way to assist students thereby advancing opportunities for a new generation of industry and community leaders."
The first scholarships will be awarded for the 2020/21 academic year. Scholarship recipients will be referred to as "Kirk Scholars."
Interested students can go to asphaltfoundation.org to apply. All applications and support materials must be submitted by February 15, 2020.
The Asphalt Institute Foundation was incorporated in 2014 and is a 501(c)3 non-profit public charity. From its inception, it was envisioned that the foundation would serve two purposes – education and strategic research.
The Asphalt Institute Foundation is headquartered in Lexington, Kentucky, and is supported by individuals and companies in the United States and abroad. You can learn more at asphaltfoundation.org.