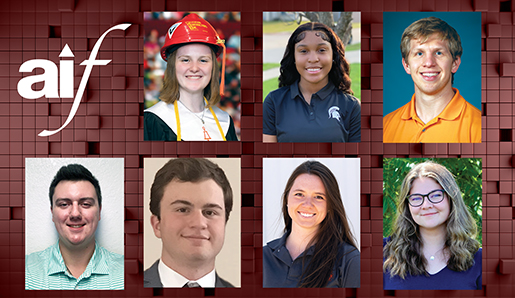 The Asphalt Institute Foundation (AIF) announced the newest recipients of the Bill and Shireen Kirk Scholarship Fund.
The scholarships are awarded annually to third- or fourth-year undergraduate, masters or doctoral students studying business, chemistry, civil engineering, construction management, marketing or sales.
Scholarship funds totaling $20,000 were awarded to this group for the 2022-23 school year. Scholarship recipients are referred to as "Kirk Scholars."
This year's Kirk Scholars are:

Sadie Brockett, Iowa State University
Kelina Evans, Michigan State University
Tyler Kleinsasser, South Dakota School of Mines & Technology
Tyler Morrison, University of Kentucky
Joseph Pontari, University of Maryland
Allison Stencil, University of Wisconsin-Platteville
Elizabeth Turochy, Auburn University
Brockett studies construction engineering at Iowa State University. She is from Reinbeck, Iowa. She hopes to work as an engineer, managing heavy civil and highway projects.
Evans majors in civil engineering at Michigan State University. She is from Joliet, Illinois. Her plans include becoming a project manager with her current co-op company.
Kleinsasser is a civil engineering/engineering management major at South Dakota School of Mines & Technology. He is from Rapid City, South Dakota. He plans to open a consulting firm after gaining experience in the field.
Morrison studies civil engineering at the University of Kentucky. He is from LaGrange, Kentucky. His goals include graduate school then a career in transportation engineering.
Pontari studies civil engineering at the University of Maryland. He is from Absecon, New Jersey. His plans include working as a heavy civil engineering contractor after graduation.
Stencil studies construction management at the University of Wisconsin-Platteville. She is from Greenville, Wisconsin. She wants to work as a project manager and help others grow as well.
Turochy is a civil and environmental engineering major at Auburn University. She is from Auburn, Alabama. She plans to earn a Ph.D. and provide asphalt paving solutions to under-resourced communities.
"The AI Foundation is honored to be a part of Bill and Shireen Kirk's strong commitment to enriching the lives of the next generation of industry professionals through this scholarship program," said AIF Program and Development Director Allen McDaniel.
Interested students can go to asphaltfoundation.org to learn more about the program. The 2023 application will be available early next year.
The Asphalt Institute Foundation was incorporated in 2014 and is a 501(c)3 non-profit public charity.