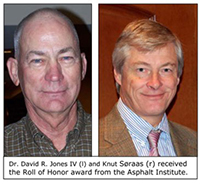 At the Asphalt Institute's (AI) 2008 Annual Meeting in Tucson, Ariz., two distinguished industry leaders were recognized for outstanding achievement and service to the asphalt industry by being named to the Institute's Roll of Honor.
"The Roll of Honor is our most prestigious award," said Pete Grass, president of the Asphalt Institute. "Mr. Jones and Mr. Søraas have both shown a lifetime of dedication to the advancement of asphalt and we are grateful for their countless contributions."
Dr. David R. Jones IV was awarded the Roll of Honor posthumously. Jones served in a variety of capacities throughout his career, including working for Owens Corning/Trumbull and also at the University of Texas where he was a key part of the Asphalt Research Team responsible for the Performance Graded (PG) Asphalt Binder Specification. Jones was a member of many industry committees and held 24 asphalt-related patents or patent applications.
Knut Søraas received the Roll of Honor for his many contributions to the industry. Søraas is a career-long employee of Esso/ExxonMobil. He represented ExxonMobil within the various committees of Eurobitume (the European association of bitumen producers), and in 2002, served as Eurobitume's President, the top elected leadership position. A year later, Søraas was appointed Director General, the full-time, top staff position of Eurobitume.
Both Søraas and members of Jones' family were given a framed certificate in recognition of the award. The Institute also awarded each the Asphalt Institute medallion. Both recipients will have their names added to the Institute's Roll of Honor at AI's headquarters in Lexington, KY.
Click here to view the complete list of the Asphalt Institute's Roll of Honor recipients.