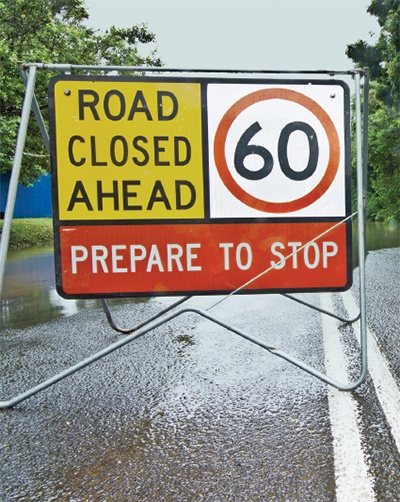 By Timothy Pinkelman
Have you ever dodged a pothole or known the unique smoothness of driving on a newly refinished road? As commuters, we all understand what 'looks good' from road construction. Or maybe better yet, 'what feels good.'
Significant resources are spent on highways and primary roads annually, but much less on rural and secondary roads where governments are scrimping to stretch the tax dollar. Foamed asphalt can provide local governments with a cheaper paved road that provides significant stability, even in flood-prone areas.
Foamed asphalt is created from injecting water into hot asphalt. When mixed with hot asphalt the water turns to steam, creating foam. A comparison that many might understand is the injection of steam into milk or cream to make froth or foam for coffee.
The foaming effect expands and thins the asphalt, allowing it to efficiently coat the stone. This coating then improves the adhesion of the particles in the substrate, especially the finer particles. This is similar to an emulsion, except that emulsions typically include other additives such as cationic or anionic chemicals and/or surfactants. Foamed asphalt is only asphalt and water.
Advantages of foamed asphalt
• Better adhesion of the substrate, especially smaller substrate particles
• Improved drainage due to the porous nature
• Greater stabilization of the asphalt
• Cheaper for use during cold or hot in-place recycling
These advantages dictate the paving application. Although it is not suitable for a smooth top course it can and is used in the base course of roads, especially for 'in-place' paving activities. This includes full-depth recycling in which generally the top 12" of surface are ground and used as the base course. It is also often used for secondary roads as a cost-effective and sometimes quick method for local municipalities to repave.
So why flood resilience?
The porous nature of foamed asphalt helps the base course to drain well during and after flooding. The improved stabilization and flexibility will resist flooding better than other roadways. Flood-damaged roads can be quickly and cheaply repaired by utilizing foamed asphalt with cold and warm in-place paving methods.
Paving design is critical
Most of the published work on this topic mentions the importance of several variables when paving with foamed asphalt. The conditions of the existing roadway define the depth of the substrate, the amount of foamed asphalt/water, etc., all of which will eventually impact the durability of the foamed asphalt layer and the entire road.
Caltrans suggests using the following steps in paving design:
• Sample surface course, base, and underlying layers of pavement
• Combine materials and determine gradation, optimum moisture contents, sulfates, and chlorides
• Determine maximum dry density and optimum moisture content of combined material
• Mix and compact materials at different percentages of the stabilizing agent
• Cure specimens
• Test trial specimens for Indirect Tensile Strength (IDT) to determine optimum stabilization percentage
• Establish a mix design formula Construct FDR (full-depth reclamation) pavement and adjust if necessary
Foamed asphalt used globally
A paving project in a colder region of China in the mid-2010s provided significant knowledge on the factors impacting the quality of foamed asphalt using recycled substrate, especially in cold climates.
Some of the key findings from a study published by "Construction and Building" in March 2018 include:
• Foamed asphalt should not be used for the surface layer of high traffic roadways due to being less stable at high temperatures
• It can be used as the base course for light traffic roadways when laid on a semi-rigid base layer
• It will reduce early damage caused by road cracking
Roads paved with foamed asphalt and in-place recycled material in Queensland, Australia provide a real-life example. Many coastal northern Queensland roads are repaved using foamed asphalt in a full-depth recycling. In 2017 Tropical Cyclone Debbie hit these roads and they survived unscathed. The Queensland Department of Transport and Main Roads has reported an 80 percent success rate for this method of paving where utilized on coastal roads.
Summary
Although not perfect for high-traffic paving projects, utilizing foamed asphalt can be useful for rural and less traveled roads. Used in the base course, foamed asphalt provides a firm but flexible base course that is resilient during flooding events. This advantage in conjunction with the ability to pave in place can make it a good choice for rural roads, especially in high-risk flood areas. And, due to the favorable economics, local governments may be able to pave many more miles of roads.
Pinkelman is an Asphalt Sourcing Leader at Owens Corning.