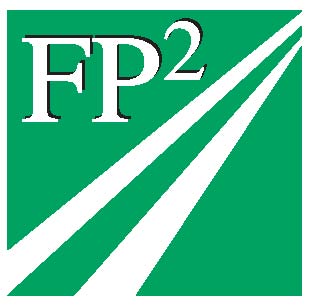 FP2 Inc., formerly the Foundation for Pavement Preservation, has unveiled a new logo and innovative new website: www.FP2.org. The site creates an informative experience for the user and focuses on the impact the Foundation has made in the pavement preservation industry by supporting contractors, material suppliers and equipment manufacturers.
"The new site hits the mark in delivering the FP2 message," according to Jim Moulthrop, Executive Director of FP2 Inc. "Our goal was to create a site that stresses the importance of pavement preservation, why it matters and how FP2 Inc. supports members and the industry every step of the way. As well, the new logo offers a contemporary visual that will become a recognizable symbol of effective pavement preservation."
The FP2.org site centers on four major areas – advocacy, research, promotion and activities – providing users essential tools necessary to highlight the importance of pavement preservation for the nation's $1.75 trillion highway system. The site also features specific areas for FP2 Inc. members and highlights the popular Pavement Preservation Journal, a quarterly publication promoting new and emerging pavement preservation techniques and best practices.
The site was created by the web design firm WebMedley with support from FP2 Inc. member company Ergon Asphalt and Emulsions Inc.
FP2 Inc. is a non-profit trade association organized under the Internal Revenue Code Section 501(c)6 and supported by the pavement preservation industry, contractors, material suppliers and equipment manufacturers. FP2 Inc. works in close cooperation with the Federal Highway Administration, the National Center for Pavement Preservation as well as Regional Pavement Preservation Partnerships and State-based Pavement Preservation Centers. FP2 Inc. supporters are passionate about promoting the importance of protecting and preserving the huge investment in pavement infrastructure.