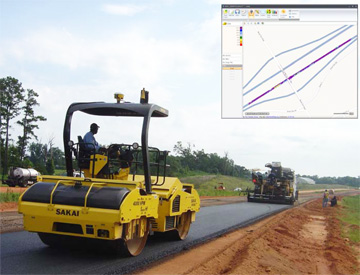 More info on Intelligent Compaction…
The Federal Highway Administration (FHWA) Intelligent Compaction National Workshop is accepting registrants now for the December 13 event.
This first ever event is free but there is limited registration. You can register online. The workshop will be held in Atlanta at the Sheraton Gateway Hotel.
The workshop's aim is to familiarize attendees with the fundamentals of intelligent compaction (IC), demonstrate the route to successful IC implementation and develop attendees into champions for IC with their organizations and companies.
Asphalt Institute Senior Regional Engineer Bob Horan will lead a session on IC for HMA and a panel discussion on QC/QA for HMA IC.
IC is an equipment-based technology for better quality control that results in longer pavement lives. IC machines are vibratory rollers with specialized equipment and on-board computers.
The FHWA workshop is supported by the Asphalt Institute, the National Asphalt Pavement Association and the Georgia Department of Transportation.