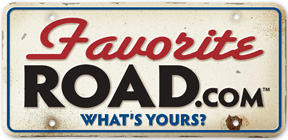 Lifetime "roadie" and Route 66 advocate Jim Conkle recently took time to post a story and photo of his beloved Route 66 on our online community website FavoriteRoad.com.
His passionate entry earned him a new digital camera in our online contest. But Jim gave us something, too: His insights, coupled with his life mission of preserving, restoring, and promoting our nation's most historic roads, byways and corridors, grabbed our attention and won our respect.
A fan of Route 66 (and travel in general) since 1949, Jim currently serves as the chairman of the board for Preservation of Historic Roads and Corridors, the Route 66 Preservation Foundation, the Route 66 Alliance, and the Highway 99 Alliance. He's also the general manager/editor of Route 66 Pulse – a publication dedicated to illustrating the ways that tourism and economic development have been impacted along this famous stretch of road.
We consider ourselves lucky to have crossed paths with such a dedicated roadie. How dedicated is he? Jim doesn't confine his promotion of Route 66 and other historic roads to his local area. He travels up and down Route 66 itself to meet and educate Americans all along the road's path, which stretches from Chicago to Los Angeles.
Jim is considered a national advocate and an expert for road preservation among many elected officials at the local, state and federal levels. He's also involved with the Will Rogers Awards, an annual ceremony that allows members of the Route 66 community to show their appreciation to those who diligently work to preserve the legacy of Route 66 and help make it, and other historic roadways, an important part of the national landscape.
"Route 66 is, without a doubt, one of the most famous roads in America. It's part of our history and culture. Poems, movies, and songs have been created in homage to this stretch of highway," Jim says. "But you know what? It's not the most important road in the United States. That belongs to each of us. It's the road we travel every day. It's the road we travel on to go home or to be with loved ones. It's the roads we get out on to see this great land of ours. Route 66 is just the flagship, the role model, and the jumping off point to begin discussions on the important work of promoting and preserving our nation's unique identity and culture."
Jim summarizes his love for Route 66 simply, yet profoundly, by saying: "So many great roads to travel, so little time."
We couldn't agree more, Jim.
FavoriteRoad.com is being updated continually with new photos and stories, including featured roads and related road insights. Outstanding submissions may also be eligible for prizes and contest giveaways. Visit www.favoriteroad.com today to share your favorite road experience and read stories from fellow travelers.
FavoriteRoad.com, sponsored by Asphalt magazine, is an online community designed for you to share photos and stories of your favorite roads.